Country to constructively engage at WTO: Shri Nath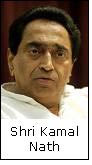 Addressing the press Conference on the outcome of the recently concluded WTO Ministerial Conference at Geneva, Shri Kamal Nath, Union Minister of Commerce & Industry, has stated that the primary objective of the Doha Round is to put the development dimension of international trade on centre stage.

While there would always be commercial interests guiding trade, these interests cannot take primacy over the livelihood interests of billions of poor and vulnerable farmers of the developing world.

In the context of the current food crisis and the abnormal rise in food prices, it has become all the more important to preserve and protect the livelihood security of poor farmers and the long term food security of developing nations.

In view of the subsistence nature of farming in developing countries and the need to insulate the poor and vulnerable farmers of developing countries from the shock of large tariff reductions, the instruments of Special Products and Special Safeguard Mechanism were built into the Doha mandate. The July Framework and the Hong Kong Declaration built upon it.

While the Special Products are designed to allow developing countries to take less than formula cuts on their vulnerable products, specially the products affecting the livelihoods of subsistence farmers and affecting the food security of a nation, the SSM is designed to protect the farmers from sudden import surges and price dips by applying an additional safeguard duty over and above the bound rate.

The lack of consensus on SSM was not an issue affecting only India. It affected more than 100 of the least developed and developing countries.

The G33 (which has 46 members), the African Group (with 53 members), the African-Caribbean-Pacific Group, the Small Vulnerable Economies, together having a membership of more than 100 countries, had expressed their strong views on the volume and price triggers.

They had issued a joint statement (copy enclosed) on 27th July, articulating their needs and their recommendations on the triggers and the remedies.

The trigger for an SSM is very important because it determines when a safeguard duty can be imposed. If the trigger is too high, the SSM loses its effect because it can only be used in the most exceptional circumstance. Thus the trigger has to be reasonable.

For our most important Special Products, we had negotiated 5% zero cut tariff lines that is 5% of the total tariff lines would take no tariff cuts. There would be some other tariff lines, which would take very low tariff cuts.

The volume trigger for such Special Products, which would either take zero or low tariff cuts because they are our most vulnerable products, was sought to be fixed at 40% higher than the average imports of the last three years by a major developed country.

That is if the average imports of a product over the last three years is 100 MT, unless the imports crossed the level of 140MT, the safeguard duty could not be activated.