Trade body demands reforms in face of falling export figures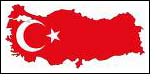 Recently, the Uludag Exporters Union (UIB), from Bursa province met to discuss the current situation arising from the global crisis. According to the Union, exports in the month of January were down by 53 percent and fell to US $1.02 billion, the lowest in nearly three years.

The Union President asked the government to play a more proactive role in accelerating reforms to help the exporters as well as manufacturers to survive through the crisis. He requested the government to reduce the interest rate of lending to industries and also try to reduce the foreign debt burden on the country.

Considering that the International Monetary Fund has projected a growth of only 0.3-0.5 percent for developed countries, the council echoed the fear that the Turkish companies would be severely affected and directed the exporters to look for new markets to offset the losses in exports from their key markets.