FM urges self-reliance to achieve economic stability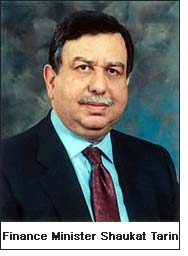 Finance Minister Shaukat Tarin said self-reliance was the only way forward for Pakistan to achieve economic stability and lessen dependence on revenue streams flowing in from donor agencies.

"As long as these revenue streams flow, things work well but once these streams go away, problems re-surface and economic independence becomes a distant dream," he said in a keynote address to a two-day 'Conference on Value Added Tax (VAT)' that started in the capital here under the auspices of Federal Board of Revenue (FBR).

The minister said Pakistan heavily relied on taxes as a major source for government revenues required for socio-economic uplift of the people. Optimum revenues are achieved when an efficient taxation system is in place. Our Government's vision and strategy of a better Pakistan also rests on a taxation régime which is based on equity and fairness, convenience of payment, economy in collection, and simplicity of procedures, he added.

He said reducing poverty through generating additional revenues is an important step towards achieving our government's vision and that can only be achieved through an efficient taxation system which conforms to the best international practices in revenue collection.

Shaukat Tarin said these best practices were being adopted by countries all over the world and like others Pakistan had also set about modernising its taxation structure through the Tax Administrative Reforms Program (TARP) aimed at achieving greater efficiency and productivity in the tax collecting business processes and tapping new tax resources.

He admitted there were challenges in the way of generating additional indigenous revenues and exercise of discretionary powers by the government, lack of professionalism due to an inadequate capacity building and existence of certain exemptions in our tax regime were issues which needed to be addressed before the introduction of Value Added Tax.

Tarin said the tax managers alone could not do all this and "a lot depends on the policy, planning, vision and commitment of the political and economic managers". "It is therefore a common responsibility of all the stakeholders to contribute towards achieving an efficient taxation system which can generate additional revenues for the country," he added.

He also called for collective efforts to achieve a broader and larger goal of better standards of living for the people through better tax collection. This in turn requires increase in tax base by incorporating maximum categories of services into the tax net. While our tax base includes a wide range of goods, services sector, which is a major source of revenue around the world, is largely out of the tax net and it is time we revisited our exemptions, zero-rated items, rate variations and major sources of irritants to business, he added.

The finance minister said Pakistan could also draw on the experiences of other countries for developing a viable model best suited to our economy. He said the Value Added Tax could be considered as an effective tool for proper documentation of economy, widening of tax base and equitable taxation mechanism.