Ministry of Commerce revises Indo-Nepal trade treaty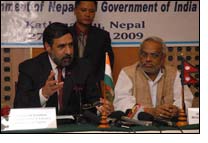 Shri Anand Sharma, Union Minister of Commerce and Industry and Mr. Rajendra Mahto, Nepalese Minister of Commerce and Supplies signed the 2009 India-Nepal Treaty of Trade and Agreement of Cooperation to Control Unauthorized Trade. The 2009 Trade Treaty revises the 1996 Trade Treaty between the two countries. The 1996 Treaty has been a turning point in the trade relations between the two countries and resulted in phenomenal growth of bilateral trade from Rs. 28.1 billion in 1995-96 to Rs. 204.8 billion in 2008-09. While the Nepalese exports to India increased from Rs. 3.7 billion to Rs. 40.9 billion, the Indian exports to Nepal increased from Rs. 24.4 billion to Rs. 163.9 billion during the period -1995- 2009.

After signing the agreement, Shri Sharma said, "There is need to shift the Indo-Nepal trade to the higher level and attain better qualitative dimensions. The opening of new lines of products and duty free access in India will provide further boost to the growing Indo-Nepal Trade", he added and hoped that the revised treaty would help facilitate Trade by opening new land routes for trade between the two countries. The current treaty is expected to provide further access to Nepalese products into India and to enhance and expand bilateral trade between the two countries, the Minister further added.

The changes introduced in the Treaty are:
- The validity of the Treaty has been increased from five to seven years, along with the provision of automatic extension for further periods of seven years at a time.This will provide more stable framework for bilateral trade and promote investments in Nepal based on preferential access provided by the Treaty to Nepalese products.

- No discrimination will be made in respect of tax, including central excise, rebate and other benefits to exports merely on the basis of payment modality and currency of payment of trade.
This will bring the bilateral trade conducted in Indian Rupees at par with trade in convertible currency and will end the existing mechanism of Duty Refund Procedure (DRP) which was procedurally cumbersome. It will provide Nepal a direct control on the customs duty revenues on import of manufactured goods from India. It will also allow Indian exports to avail benefit of export promotion schemes prevailing in India, making these products more competitive for further sale or value addition in Nepal. (This change would be made effective from the date to be mutually agreed to. Modalities will be developed for smooth transition from the existing to the new system.)

- The time limit for temporary import of machinery and equipment for repair and maintenance has been raised from 3 to 10 years.

- Several new items of export interest to Nepal have been added to the list of primary products giving these items duty free access to India without any quantitative restrictions. These include floriculture products, atta, bran, husk, bristles, herbs, stone aggregates, boulders, sand and gravel.