'Greentailing' to be hot topic at NRF's Annual Convention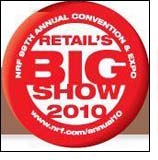 Whether it's conserving water in their stores, promoting their reusable shopping bags or many retailers are committed to the "greentailing" movement. Green topics such as how to save and make money with green stores and consumer response to sustainability will be some of the many featured sessions at NRF's 99th Annual Convention and EXPO. More than 17,500 retail executives and experts will come together to discuss green retailing and other pertinent industry issues at NRF's BIG Show, January 10-13, 2010. The four-day event will be held at the Jacob Javits Convention Center in New York City. NRF's 160,000 sq. foot EXPO hall will also feature a one-of-a-kind "Green Pavilion" for guests to see first-hand what goes into making a store green.

Sustainability takes center stage on Monday, January 11, from 9:45 a.m. – 10:45 a.m., with the Super Session Sustainability in Retail – Increasing Profitability and Impacting the World. Walmart Stores' Matt Kistler, Senior Vice President of Sustainability, and Peter Graf, Chief Sustainability Officer at SAP will provide an end-to-end picture of what "green" truly means for retailing.

Additional educational content NRF will offer around sustainability include:

"Green" Your Supply Chain and See Earnings Go from Red to Black
Sunday, 1/10, 10:15 a.m. – 11:45 a.m.
Speakers: Ken Bonning, Executive Vice President, Logistics, Kohl's Department Stores, Inc.; Rajiv Malik, Vice President, Old Navy Global Production & Old Navy Outlet
Attendees will hear how leading companies have introduced green initiatives into their supply chains and how these initiatives can positively impact a company's bottom line.

Environmentally Sustainable Retailing: Improving Profitability through Green Remodels
Monday, 1/11, 12:00 p.m. – 12:45 p.m.
Speakers: James Thomas, Vice President, Corporate Social Responsibility, JCPenney; Scott Bearse, Director, Deloitte Consulting, LLP
Attendees will learn how to implement effective energy and recycling measures within a remodeling process. The speakers will also explore remodel tax incentives, implementation challenges and setting a framework that generates sustainable savings.

Net Zero Buildings: Creating Stores that Save and Make Money
Monday, 1/11, 1:45 p.m. – 2:45 p.m.
Speakers: Joseph Nevin, Senior Principal, Bergmeyer; Michael Davis, Vice President, Bergmeyer
This session will explore Net Zero store design models currently used by retailers as well as lessons learned from early implementation and how to create a meaningful new revenue stream.

The Consumer Response to Sustainability
Tuesday, 1/12, 1:45 p.m. – 2:45 p.m.
Speakers: Kevin Hagen, Director of Corporate Social Responsibility, REI; Will Ander, Senior Partner, McMillian Doolittle, LLP
This panel discussion will present an overview of the current outlook through a customer's eyes and will examine customers' preferences and trends in shopping when green choices are available.