Concave Footie boot could help England win World Cup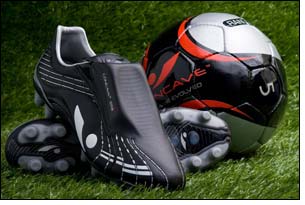 SOCCER scientists are hoping to make metatarsal misery a thing of the past after developing a new footie boot which could help England win the World Cup.

Fabio Capello's men are one of the bookies' favourites to lift the trophy in South Africa this summer. But despite a near-perfect procession through their qualifying group, they've already been struck down by a series of set-backs. Skipper John Terry has been stripped of the captaincy whilst Chelsea team-mate Ashley Cole faces a race against time after breaking his ankle.

Fans fear injuries to key players - and in particular the dreaded 'curse of the metatarsal' – could thwart their dream of silverware. Before the last World Cup Wayne Rooney, 24, faced a battle to regain fitness after breaking his foot six weeks before the tournament began. Other stars who have suffered metatarsal injury include Michael Owen, 30, and David Beckham, 34.

But boot manufacturers Concave have now come up with an innovative design that could kick foot fractures into touch. Their FIFA-approved PT+ is unlike any other football boot in the world and features a concave-shaped 'sweet spot' layer of Thermoplastic Polyurethane.

As well as being scientifically proven to increase the accuracy of the wearer's passing and enhance their power, the concave element protects the upper foot. Concave designer Norbert Fechter said: "Concave boots are one of the best designed performance football boots when it comes to preventing injuries.

"The Concave design team's top priority was the biomechanics of injury prevention in terms of design work and excellence in choice of materials."

Manchester United and Republic of Ireland star John O'Shea signed a two-year deal to wear Concave boots at the end of last year following an extensive trial period. He made his public debut in a pair of Concave PT+ in United's Premier League match against Chelsea at Stamford Bridge in November 2009.

The boots are also now being worn and scored with in England's top-flight by Danny Webber of Portsmouth and in the Championship by Crystal Palace striker Neil Danns. And dozens of professionals at league clubs across England and Scotland are now trying them out in training in a bid to stay off the treatment table.

Over $5 million and eight years of research have gone into the development of the Concave boots so far. Independent testing, undertaken by Australia's Monash University and leading engineering firm Invetech, showed improved accuracy by up to 40 per cent and power by 15 per cent. A number of theories have been put forward as to why more and more players have fallen foul of metatarsal injuries in the last few seasons.

Many believe the number of games being played at the top level is a contributory factor, whilst some blame a more intensive training regime. Training on artificial surfaces has also been blamed as well the evolving design of modern football boots, with many now much lighter and more flexible than in previous years. Everton boss David Moyes has stated he's "no expert" but believes flimsy footwear is a definite factor in an increase in juries.