Tanger at Arches, NY receives LEED certificate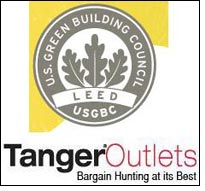 Tanger Factory Outlet Centers Inc is pleased to announce that Tanger Outlets at the Arches, Deer Park, New York has been certified as a LEED (Leadership in Energy Efficient Design) Silver Core and Shell project by the U.S. Green Building Council a 501 non-profit community of leaders working to make green buildings available to everyone within a generation.

Tanger Outlet Centers along with Blumenfeld Development, and Apollo Realty (together working as Deer Park Enterprises, LLC), are the proud developers of Tanger Outlets at the Arches, a 740,000 square foot retail/mixed use development, which opened in October 2008. The Center's developers, working with Adams + Associates Architecture (Mooresville, NC), Susan Blumenfeld (Design Consultant), Cameron Engineering & Associates LLP (Woodbury, NY), Aurora Construction (Ronkonkoma, NY), and the local municipality of Babylon Town, New York, were awarded a LEED Silver Core and Shell rating by USGBC for its 540,000 square feet of retail development, one of the largest retail centers in the country to achieve this designation. Tanger Outlets at the Arches was designed by Adams + Associates Architecture to enhance the customers' shopping experience and the tenants' quality of workplace life with its open covered walkways, pedestrian friendly shopping, and energy efficient buildings.

Steven B. Tanger, President and Chief Executive Officer of Tanger Factory Outlet Centers, Inc., commented "Over 150 million consumers each year visit Tanger Outlet Centers and spend, on average, nearly 2 hours shopping with their friends and family. The environment in which they shop has become more important to our customers and we are very proud of the certification achieved by Tanger Outlets at the Arches in Deer Park on Long Island. LEED certification is an extremely important element to strive for as we redevelop and revitalize our existing centers, such as our Hilton Head I redevelopment which when reopened in the second half of 2011 will be the only LEED certified shopping center in Beaufort County, SC. "

David Blumenfeld, Principle, Blumenfeld Development, stated, "From the first moment we began to consider its design we knew The Arches would incorporate the technology that would allow it to be a "green leader" on Long Island. It was always our intent to ensure that it would serve as an innovative example for the 2.7 million people who live in the region and who need to embrace green solutions in their own homes. It's also important to note that thanks to the public-private partnership of Babylon Town Supervisor Steve Bellone we were able to move forward with a design that now allows us to celebrate this certification. He has been a strategic visionary in seeking new green solutions from business and government as we address 21st Century development plans."
"The green building movement offers an unprecedented opportunity to respond to the most important challenges of our time, including global climate change, dependence on nonsustainable and expensive sources of energy and threats to human health," said Rick Fedrizzi, President, CEO & Founding Chair, U.S. Green Building Council. "The work of innovative building projects such as Tanger Outlets at the Arches is a fundamental driving force in the green building movement."