Tommy Hilfiger to support Millennium Promise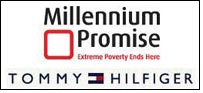 The Tommy Hilfiger Group, which is wholly owned by Phillips-Van Heusen Corporation, formally launched a five-year campaign through the Tommy Hilfiger Corporate Foundation to support Millennium Promise, the leading international non-profit organization solely committed to supporting the achievement of the Millennium Development Goals (MDG) to halve extreme poverty by 2015. In his role as a MDG Global Leader, Mr. Tommy Hilfiger will engage and encourage corporate leaders and consumers to join him in the movement to end extreme poverty.

The announcement today heralds the Corporate Foundation's single largest international investment to-date in its outreach strategy. Significantly, the campaign is a five-year plan to build sustainable communities in sub-Saharan Africa and will raise awareness and funds for the Millennium Villages project, a joint initiative of the Earth Institute at Columbia University, Millennium Promise, and the UN Development Program. Mr. Tommy Hilfiger was joined at the announcement by Professor Jeffrey D. Sachs, President and Co-founder of Millennium Promise and Director of the Earth Institute, and Ludo Onnink, Chief Operating Officer for the Tommy Hilfiger Group.

Days earlier, Tommy Hilfiger and Ludo Onnink had visited the Millennium Village cluster in Ruhiira, a remote community comprising approximately 55,000 people in rural Uganda.

"No-one could fail to be deeply moved at the many serious challenges that villagers face every day in Ruhiira, but at the same time I have been incredibly inspired by the community spirit and the desire to make long term changes that will provide for generations to come. Our ambition is to develop a hands-on campaign over this period of investment that is truly sustainable - five years for a lifetime," said Tommy Hilfiger. "The results that I have already witnessed first-hand in the Millennium Village in Ruhiira have convinced me that launching this campaign today is the single best way we can use the power of our brand and our people to support efforts to end extreme poverty in our lifetime."

The Tommy Hilfiger Corporate Foundation announced the $2 Million commitment to Millennium Promise in 2009. In 2006, when the Millennium Village project was first introduced to Ruhiira, nearly 90% of households survived on subsistence agriculture, mainly from the production of bananas, with 60% of households earning less than a dollar a day. The integrated life-saving interventions introduced that year in Ruhiira have already created a sound model for development. Agriculture production in Ruhiira, for example, has nearly doubled in a mere three years, and since 2006 malaria bednet usage has increased from 1% to 34%, while malaria prevalence among all ages has decreased from 17% to less than 1%. Over 60% of women are now being tested for HIV during pregnancy, an eight-fold increase, and over 45% of births are attended by a skilled healthcare professional, an approximate seven-fold increase. The percentage of the population with access to an improved water source has more than tripled, and access to basic sanitation has leapt from less than 5% to 70%. The Tommy Hilfiger Corporate Foundation pledge will significantly further these integrated developments, focusing on the community of Bugongi within the Ruhiira cluster of villages.