NRF urges House to reject China Currency Bill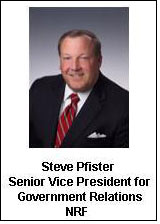 The National Retail Federation asked the House to reject a China currency bill scheduled for a vote, expressing concerns that the measure would violate World Trade Organization rules and expose U.S. exports to retaliation while doing little to persuade China to allow the yuan to float more freely.

"While we agree that the Chinese currency needs to move toward a market-determined exchange rate, H.R. 2378 would be ineffective in addressing the currency issue and would create significant costs for U.S. companies and workers in retail and other industries," NRF Senior Vice President for Government Relations Steve Pfister said. "This bill cannot provide effective leverage over China to resolve the currency issue or have any positive impact on either the trade deficit or U.S. jobs."

Pfister's comments came in a letter to members of the House, which is expected to vote this afternoon on H.R. 2378, the Currency Reform for Fair Trade Act. Pfister said NRF will count consideration of the bill as a key vote in its ranking of lawmakers on issues important to the retail industry.

The bill would require the Commerce Department to determine whether a country's currency is undervalued and constitutes a prohibited export subsidy when considering "countervailing" duty cases. If so, Commerce could impose higher duties than it would under existing rules. But Pfister said countervailing duties, which apply to only a few targeted imports, amount to "a microeconomic mechanism" that "is simply the wrong tool to address a large, macroeconomic issue such as currency policy in a trading relationship worth hundreds of billions of dollars."

The legislation was introduced in response to claims by U.S. manufacturers that China's longtime policy of tying its currency to the U.S. dollar has allowed Chinese manufacturers to undercut U.S. companies. China earlier this year said it would begin allowing the yuan to float against a basket of currencies. The value of the yuan has increased more than 1 percent recently but critics remain unsatisfied.

Pfister said the legislation would violate World Trade Organization rules because currency exchange practices are not included under the list of government financial contributions the WTO allows to be considered in countervailing duty cases. Moreover, since International Monetary Fund economists have been unable to accurately determine the extent to which the Chinese currency is undervalued, any calculation by Commerce would be arbitrary and duties based on the calculation would be locked in for a year even if the value were to change during the interim. China would also be discouraged from moving beyond the currency peg set by Commerce.

Violation of WTO rules would shift attention from China's policies to the United States and make it more difficult to resolve more pressing problems for U.S. companies doing business in China such as market access and protection of intellectual propertyrights.