Kohl's earns fourth Green Power Leadership Award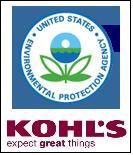 Kohl's Department Stores will be recognized tonight with its second Green Power Partner of the Year honor at the Green Power Leadership Awards held in Portland, Ore. as part of the annual Renewable Energy Markets Conference.

The awards are co-sponsored by the U.S. Environmental Protection Agency (EPA), the U.S. Department of Energy and the Center for Resource Solutions and recognize the country's leading green power purchasers for their commitment and contribution to helping advance the development of green power sources.

The Green Power Partner of the Year award recognizes partners who distinguish themselves through their green power purchase, leadership, overall strategy and overall impact on the green power market.

"Since joining the EPA Green Power Partnership in 2006, Kohl's has shown consistent leadership by increasing our commitment to renewable energy year after year," said Ken Bonning, Kohl's executive vice president of store planning and logistics.

"Embracing the use of renewable energy was a natural fit for our overall goal to leave a smaller environmental footprint. Kohl's dedication to innovation in on-site solar power generation and the purchase of renewable energy credits demonstrate our continued focus on energy management as an important component of our sustainability initiatives."

This is the second year Kohl's has been named EPA Green Power Partner of the Year. Kohl's has also received EPA Green Power Partnership recognition for on-site generation and green power purchasing. In 2010, Kohl's purchased more than 1.3 billion kilowatt hours of renewable energy, a 60 percent increase over the company's 2009 green power purchase and enough to meet 100 percent of the company's purchased electricity use.

According to EPA, this current green power purchase is equivalent to avoiding the carbon dioxide emissions of nearly 188,000 passenger vehicles per year, or is the equivalent amount of electricity needed to power more than 119,000 average American homes annually.

"EPA congratulates our leadership award winners for demonstrating by example the importance of using clean, renewable energy," said Gina McCarthy, Assistant Administrator for Air and Radiation at EPA. "By using green power, Kohl's Department Stores is leading the way toward cleaner air and a healthier environment while helping advance the market for renewable energy."

In addition to purchasing renewable energy credits that support projects nationwide in the areas of wind, solar, small-hydro, biogas and biomass generation, Kohl's continues to increase its commitment to on-site power generation through the company's industry-leading solar program.

As the largest retail host of solar power in North America, Kohl's currently operates 100 solar locations in seven states. In September the company announced plans to expand its solar program into its eighth state, Pennsylvania. Depending on the geographic location, solar provides 20-50 percent of the energy provided to the Kohl's location.