The four trend themes in leather for S/S 2012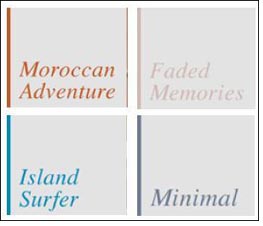 The mood of fashion is changing: there is a feeling of greater optimism and the color forecasters are seeing the seasonal warmth, enthusiasm and clarity of spring and summer as major influences on the new color palette and fashion trends for 2012. Interpreting fashion themes into reality is always a challenge, often made more difficult when applied to such a unique and varied substrate as leather.

It is a challenge that Clariant welcomes and its trend and color forecasts of the immediate past have been extremely accurate. This was clearly evidenced by the offers on show at the most recent Le Cuir à Paris and Lineapelle exhibitions when the finished leathers for Autumn/Winter 2011/2012 were displayed.

Looking even further ahead, Clariant launches its new Global Color Card – developed in close cooperation with MODEUROP, the Fashion Pool at DSI (Das Schuhinstitut GmbH) – as well as its leather trend booklet 'Fashion Up!, in preparation for Spring/Summer 2012.

The Four trend themes in Leather

Indistinct, washed-out materials and colors have defined the fashion look over several seasons, but the new leather trends for Spring-Summer 2012 are inspired by the mood of exotic high summer and colorful ethnic influences, nostalgia and heritage classics, as well as simple shapes with nature as a source of inspiration.

Moroccan Adventure
An ethnic story centred on Marrakech and the Sahara. Bustling souks, sun-baked walls, camel caravans, Bedouin robes and colorful Moorish mosaics inspire. Ethnic textures are cleaner and less fussy. Bold stripes, tribal prints and weaves are mixed with sun-baked matt leather and suede.

Faded Memories
Feminine nostalgia and heritage classics: flaking theatres, ballet dancers, vintage gowns, forgotten sofas overgrown with ivy paint a romantic picture. Timeworn leathers have a sense of authenticity. Crackled and creased finishes have an antique feel while floral embosses, pearlised and subtle metallic finishes are pretty and romantic.

Island Surfer
Rolling waves, white sandy beaches and tropical blooms set the mood for a high summer story. Hawaiian surfer looks add a sportier angle. Tropical fantasy looks, such as exotic reptile and metallic prints, are mixed with sporty scuba Neoprenes, mesh and techy textures.

Minimal
Clean, modern and simple shapes address the minimalist trend. Modern architecture, fashion and furnishings are pared down to make a very bold statement. Sophisticated quality classics with super smooth finishes and luxury grains such as croc and ostrich contrast with techy optical prints and micro grids.

Leather Colors
Color is making a refreshing comeback. The new colors are clearer and fresher. Bold and intense colors reflecting energy and dynamism stand side-by-side with light colors, inspired by the world of health and beauty. Natural colors are the neutralizing element between intense and delicate shades.