Wacker honored with GE Ecomagination Leadership Award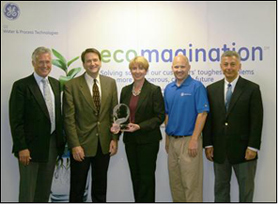 The Wacker Chemical Corporation plant in Calvert City, Ky., has significantly reduced water usage and landfill waste while simultaneously increasing efficiency and cost savings with help from GE and its advanced water chemical technology.

Wacker was facing high costs associated with the transportation and disposal of a watery non-hazardous waste commonly known as sludge. Each day, large amounts of sludge were being transported from the wastewater treatment area to a disposal site. The frequent disposal not only increased operational costs for the Wacker plant, but also increased the amount of waste being added to the area landfill. Additionally, the costs associated with the chemical treatment of the wastewater were higher than necessary due to operational inefficiencies.

To tackle these operational and environmental challenges, Wacker turned to GE experts and technologies. Together, they developed a solution to reduce waste, improve wastewater treatment efficiency and reduce costs at Wacker's Calvert City plant, which mainly produces polymer disipersions and powders used by customers in the adhesives, coatings, construction and engineered fabrics industries.

"GE's expertise in water treatment applications was essential to the success of our waste reduction project," said Mary Beth Hudson, site manager of Wacker Chemical Corporation's Calvert City plant. "This is a significant step in the right direction as our company continues to strive to reduce our environmental footprint and limit the amount of natural resources used daily."

To help Wacker reach its efficiency goals, GE provided its emulsion breaker technology and applications expertise including training for plant operators, improved instrumentation and better chemical storage systems. Efforts to reduce the amount of wastewater disposed by Wacker were made possible through improvements to the wastewater treatment equipment, as well as to the chemical selection and chemical feed and control within the Calvert City facility. An increased awareness of the overall plant processes with respect to sustainability goals by the Wacker employees also was key in helping the facility reduce its chemical usage and, therefore, chemical costs.

Wacker's waste reduction project has led to the elimination of 11 million pounds of landfill waste each year and, in turn, disposal costs. The project also helped Wacker achieve savings of more than 17 million gallons of water annually at the plant, significantly reducing the impact on the environment. The facility experienced improved operations and a 40 percent reduction in overall wastewater treatment expenses, which include a reduction in transportation costs by more than 96,000 traveled miles per year for sludge transportation.

GE has awarded Wacker Chemical Corporation an ecomagination Leadership Award to recognize the company for its noteworthy reductions in water consumption and landfill waste using GE technology. GE's ecomagination Leadership Award recognizes the achievements of industrial users that significantly surpass and improve environmental and industrial operational goals while balancing industrial demands.