'Donot meddle with market forces' – CEO, NSL Textiles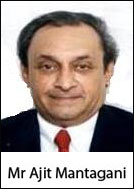 The recent government decision to permit an additional one million bales (1 bale = 170 kg) of cotton for export has not gone down well with the Indian textile sector. The Indian government had earlier put a cap on cotton exports at 5.5 million bales for the current cotton season (October to September).

However, the ginners and farmers have welcomed the move. In a recent exclusive interview with fibre2fashion, Mr Anand Popat, General Secretary – Saurashtra Cotton Ginners Association was infact optimistic that, the government would permit export of an additional 1.5 million bales, apart from the one million bales.

In an earlier exclusive interview with fibre2fashion, Chairman of All Pakistan Textile Mills Association (APTMA), Mr Gohar Ejaz, had said, "APTMA will ensure that free market mechanism should provide international prices to the farmer which helps the whole sector unlike India which has let down both, the farmers and the textile industry. APTMA has clearly informed the government about a three million cotton bales shortage, but we will still continue cotton exports, so that the farmer is ensured international prices".

In a bid to get a counter view from the textile sector, fibre2fashion spoke exclusively with Mr Ajit Mantagani, CEO of Hyderabad based – NSL Textiles Ltd. NSL is a 'Cotton to Clothing' company and is poised to emerge as one of the biggest players in the cotton textiles and garment segment.

Mr Mantagani said, "Many policies related to export of cotton, yarn, etc in the last 6-8 months have often been good decisions at the wrong time. When we should have already cleared yarn exports in the month of December-January, we did not do it. And ultimately when the government agreed to our demand for export of yarn in the month of April, the world market was already flooded with yarn and there was a lesser demand.

"So, right now the decision to permit yarn exports hasn't benefited the industry and the prices are also very low. Some of the export prices of yarn are lower than domestic prices, along with which, yarn prices have also crashed in the last few months.

"Now the same thing is happening with cotton. Worldwide demand for cotton has fallen. The cotton inventories which the mills the world have, has now been extended by at least a couple of months, because the yarn uptake is not as much as it was originally thought, when people bought cotton and that too at a high price.