Futures trade sideways in reaction to USDA acreage report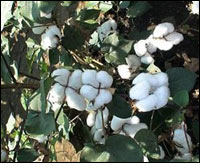 NY futures traded sideways this week, with December dropping 81 points to close at 118.59 cents.

After holding up fairly well for most of the week, the market came under renewed pressure this morning after the release of a 'bearish' US acreage figure and yet another disappointing export sales report.

When we analyze the USDA plantings report in greater detail, it doesn't strike us nearly as depressing as the headline number may suggest. Since Texas is in an exceptional drought this year, we need to look at Texas and the rest of the US separately. Outside of Texas, there were 6.336 million acres of Upland cotton planted this season, which compares to 5.219 million acres last year. Abandonment was relatively insignificant last season, as 5.155 million acres were harvested outside of Texas and yields were quite good at 909 lbs, leading to a production of 9.77 million statistical bales. Growing conditions have not been quite as beneficial this season due to flooding in some areas and drought in others, which leads us to believe that abandonment will likely be larger and yields lower than a year ago. If we assumed a 0.5 million acres abandonment figure and yields of 860 lbs, we would get a production figure of 10.45 million bales of Upland cotton outside of Texas.

Looking at Texas, the USDA has acreage at 7.1 million acres, which is 1.45 million acres more than a year ago. However, with Texas experiencing a historic drought this year, basically all dryland acreage has to be written off, while irrigated cotton is struggling to cope with the current heat wave. June is typically the wettest month of the year in both Lubbock and Childress, with 2.98 and 3.51 inches of rain, respectively. However, this June there has only been a trace of rain in Lubbock and 0.42 inches in Childress. Both stations recorded the highest average temperatures ever for June, with the daily high averaging 100.9 degrees in Lubbock and 104.2 degrees in Childress from June 1 to June 27.

There is still no break to this heat wave in sight, with the 7-day forecast calling for more of the same. It may be too early to come up with a somewhat accurate production estimate for Texas, but the way things look at the moment we feel that the crop may not reach more than four million bales. Assuming a Pima crop of about 750'000 bales, the total US crop would therefore amount to just around 15.2 million statistical bales. There is still some room for improvement if the irrigated crop in Texas were to get help from rain soon, but it doesn't look too promising at the moment.

Also, the long-range weather forecast is quite worrisome, since it calls for a wet and stormy harvest season. The culprit behind this troublesome outlook is the eruption of the Grímsvötn volcano in Island last month, which spewed out more ash in the first 24 hours than Eyjafjallajökull released during its entire 2010 episode. Ash and particles from this eruption will once again lead to a cooler than normal arctic air mass, which the jet stream will eventually transport south to meet warmer than normal tropical air. This could turn the Ag belt into a battle zone this fall, with storms playing havoc at harvest time. Crops are generally late and therefore more vulnerable to such a set up.