COMEZ at ITMA - International Exhibition of Textile Machinery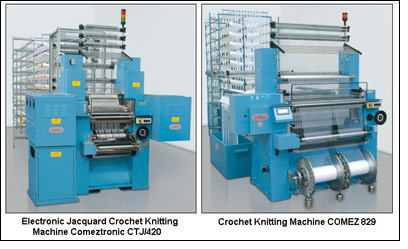 COMEZ will be present at ITMA 2011 from September 22-29, 2011 at Barcelona, Spain, with important innovations and new and renewed machine models from its broad range of machinery for the production of narrow fabrics, highlighting the excellence of its technology.

New mechanical and electronic models of crochet knitting machines, a technology in which we are world leaders, developed for many applications: narrow fabrics (lace, ribbons, bands) for underwear, passementerie, fancy yarns, textiles for technical applications, and special fabrics for outerwear.

Featuring the application of newly engineered solutions aimed at maximizing production efficiency and flexibility.

Increased possibilities in a broadened range of patterns thanks to the CTJ/420 model, featuring a jacquard device and 14 weft bars.

New electronic double needle bed warp knitting machines, in working widths from 80 to 120 cm, specifically designed for the production of technical articles, fabrics, ribbons and bands.

New entirely electronic and jacquard weaving needle looms, featuring high performance in speed and productivity, capable of producing a broad range of unique ribbons and bands, with exclusive patterns and finishings.

Along with the numerous COMEZ accessory machines on display (warpers, winders, twisters, machines for manufacturing cords, "chainette cords" and gimp yarns), an all-new folding machine model will be presented for narrow fabrics, an ideal and practical solution that is specially designed to meet the packaging needs of many manufacturers.

Software programs for programming patterns, on all types of COMEZ machinery and needle looms.

Application of a new "simulation" software function for crochet and double needle bed machines.

With 90% of its turnover generated by exports, COMEZ boasts tens of thousands of its machines installed in five continents the world over. Thanks to the support of dozens of retail agents and the presence of subsidiaries in the U.S.A., CANADA, the P.R. of CHINA and MEXICO, COMEZ guarantees its global customers efficient, prompt and thorough after sales service.

ITMA - the International Exhibition of Textile Machinery - has been held every four years since 1951. It is the world's largest international textile and garment machinery exhibition, an event which is owned by CEMATEX. ITMA is recognised as the Olympics of the textile and garment machinery industry.

COMEZ S.p.A.