Margins maintained in tough raw material markets, Low & Bonar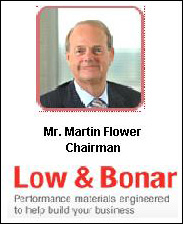 Low & Bonar PLC, the international performance materials group, announces its half year results for the six months ended 31 May 2011.

Martin Flower, Chairman, said:
"These results, during a period of unprecedented raw material price escalation, demonstrate the quality of our business, its positioning and its growth prospects.

The trading outlook has improved. With good trading momentum, selling prices increased and raw material polymer prices beginning to stabilise, the Group is confident of delivering another year of significant progress. We will continue to push ahead with our initiatives to deliver margin improvement and growth in our chosen niche markets and geographies in 2011 and beyond."

Interim Statement
We are pleased to report a good set of results for the six months to 31 May 2011 and a period of further progress for the Group as an innovative, high growth performance materials business.

Profit before taxation increased by 42% to £11.2m during the period. Underlying profit before tax, amortisation and non-recurring items rose 20% to £7.9m on revenues up 20% at £182.6m, after adjusting for foreign exchange movements. Basic earnings per share before amortisation and non-recurring items increased by 20% to 1.93p.

The most notable features during the first half of the financial year have been significant sales growth, successful operating margin management in tough raw material polymer markets and the completion of Yarns restructuring.

Significant sales growth
After posting a 15% increase in underlying sales in 2010, sales in the first half of this year continued to grow, advancing by 20% on a constant currency basis. This significant sales growth was achieved through an increasing contribution from recently launched innovative products, the continuation of strong growth in emerging markets and a further recovery in some of the Group?s heartland markets. Price increases to recover much higher raw material costs contributed 6% to first half sales growth.

Sales growth was strong in the Flooring and Civil Engineering markets and was supported by a partial recovery in the Transport and Industrial markets. Building Products activities generally remained weak. The initiatives to accelerate growth through innovation and geographic development are making an increasing contribution to sales. Sales of recently developed products as a proportion of total sales grew to 16.4% from 14.3% at the end of last year. Emerging market sales increased by 16% to £39.6m compared to £34.0m in the first half of last year.

Successful operating margin management
We have continued to experience significant and sustained increases in raw material polymer costs affecting the entire Group. The speed and extent of increases during the period was unprecedented. The cost of raw materials increased by 22% (£14.7m) compared to the first half of last year.

Sales prices were adjusted to pass through these increases, albeit with a time lag which adversely impacted margins by £4.7m in total. The Group?s ability to sustain operating margins during an unprecedented inflationary period demonstrates the quality of our business, its positioning and its growth prospects. Prices for polymers have recently begun to stabilise and, with selling prices already adjusted, operating margins should improve in the second half of the year.