Intl interior fabric designers show their creativity at Intertextile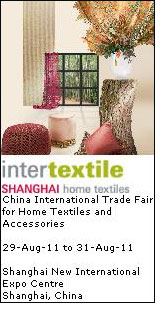 Building on the success of previous fair, the interior trends zone will return to Intertextile Shanghai Home Textiles 2011. In addition to staging up-and-coming trends for home fabrics and products, designers of the trends zone, Nelly Rodi and Sachiko Inoue, will lead special tours for VIPs, visitors and media on the first two days of the fair. They will explain the 2012/2013 interior trends from concept development to fabric design.

Event: Intertextile Shanghai Home Textiles - Autumn Edition
Venue: Shanghai New International Expo Centre, Shanghai, China
Date: 29 – 31 August 2011

As members of the Intertextile Direction Trends Committee, Nelly Rodi and Sachiko Inoue are renowned interior and apparel trendsetters from Paris and Tokyo. This year, they will interpret the 2012/2013 trends by displaying a series of natural and synthetic home fabrics and products together with a mix of bright and neutral colours at the trends zone located in Hall W1. The four themes include:

Make it happy – Poetic and natural. A modern romantic trend peppered with touches of offbeat fantasy. The style of the home is not too serious, but respecting nature, with a provincial slightly vintage charm.

Raw forces – Purity and authenticity. The look is natural, rustic chic. Total investment in the natural and the authentic, resulting in a raw elegance that is both innovative and modern.

Colour therapy – The use of bright primary colours as a therapy. Simplicity and functionality promote an atmosphere of design. Blocks of colour are mixed with pale wood and pure white to recreate the purity of childhood.

Love greens – The look reflects ethical, sustainable development. Every aspect of the home is pampered, cherished and fussed over. Everything is staged to reflect an urban lifestyle.

Additionally, in-depth seminars about home décor and textile trends will be led by four international trend forecasters including:

- Chris Sanderson, Strategy and Insight Director for The Future Laboratory from the UK as well as one of the members of Heimtextil Trendtable. His presentation will include Heimtextil Trends 2011/2012.

- Gobetti Davide, Textile Fabric Design Director for Concept Style Fashion Project Group from Italy will present Realistic and fashion forward - Elaboration of textile design process from idea to product.

- Nelly Rodi, Founder and Creative Director for NellyRodiTM Agency from France will present Decors and atmosphere trends 2012-2013.

- Sachiko Inoue, Textile Planner and Trend Director for I.S. Planning from Japan will present Lovely Reform Plan.

International interior fabric designers show their creativity on-site
Fair participants will also find an extensive range of home textile design concepts from China, France, Germany, Italy, Japan, Korea, Portugal, the Netherlands and the UK at the Designers' Studio located in Hall W2.