CITI urges govt to defuse grave crisis; relief package sought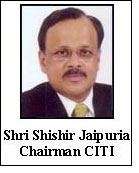 Textile industry has sought urgent measures from the government to defuse the grave crisis being faced by it on account of various domestic and international circumstances.

"Textile industry is undergoing an unprecedented rough trajectory marked by crash in prices of yarn, drastic demand erosion in domestic and international markets juxtaposed with withdrawal of export incentives that helped its price competitiveness, imposition of steep excise duty of 10 per cent on branded garments and made ups and arbitrariness in imposing quantitative restrictions on export of yarn," says Mr. Shishir Jaipuria, Chairman, Confederation of Indian Textile Industry (CITI).

CITI Chairman observed that the impact of these avoidable measures has resulted in a loss of Rs 11,000 crore to the cotton yarn sector. This has eroded the working capital of the units significantly and many of the units are not able to meet their obligations for repayment of loans and interest. In order to avoid a large number of units becoming Non Performing Assets (NPAs) and subsequently leading to closures in a matter of months, he urged that the government should announce a relief package without any loss of time.

Detailing the type of support that the industry is expecting from the government, Mr. Shishir Jaipuria said that DEPB and drawback on exports of cotton yarn should be restored immediately with effect from the dates of their discontinuance. Also, he urged restoration of interest subvention of 4.5 percent on export of textiles and clothing.

To stimulate the dithering consumer demand, he wanted excise duty of 10 percent imposed on the branded garments and clothing in the last Budget to be withdrawn. Moratorium of additional two years on repayment of all loans and interest to be allowed including TUFS loans for all units in textiles and clothing industry and reduction of margin money for purchases of cotton to 10 percent are the other two relief measures suggested by him.

Dissecting the steps that have led to the present crisis in the textile industry, Mr. S.P. Oswal, Chairman and Managing Director, Vardhman Textiles Ltd. said in April this year world cotton prices crashed all of a sudden in tandem with the global commodity prices, after reaching unprecedented high levels.

For instance, domestic cotton prices (Shankar- 6) increased from Rs 30,000 per candy in September 2010 to Rs 63,000 per candy during February – March 2011. It crashed to Rs 45,000 per candy in April 2011 and to Rs 38,000 per candy by the end of June 2011. Since mills stock cotton for 2-3 months, most of them had bought cotton at high prices and are currently stuck with high cost cotton. They have lost over Rs 15,000 per candy on about 65 lakh bales in cotton stock. This would amount to a total estimated loss of Rs 6000 crore for the industry.

Coupled with drastic reduction in the prices of manmade fibres, which has incurred a loss of Rs 500 crore to the spinners, the industry losses are peaking to Rs 6500 crore approximately.