Textiles Scotland's new three-year strategy launched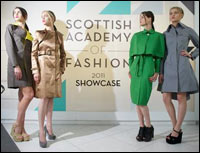 The Scottish Academy of Fashion held an exclusive preview, showcasing the achievements of its first full year.

Four designs from the Academy selected by Mackintosh for their London flagship store were unveiled, and the audience including industry, academia, Showcase partners Textiles Scotland, Creative Scotland and the Scottish Funding Council, provider of the initial funding for the Academy, saw a salon show and exhibition featuring industry projects, research collaboration and the pick of fashion collections of its partner universities.

Project Manager, and Chair of Scottish Textile Industry Association, David Breckenridge announced new research areas; Scottish Textile Archive, Molecular Imprinted Textiles, Emotional Engagement and Digital Print, and a major commercial research project with leading cashmere yarn spinners Todd & Duncan, The DNA of Cashmere, which could revolutionise the Scottish cashmere industry. Todd & Duncan also awarded a prize of £1,000 each and a two-week internship with the company, to the best three student collections in the showcase.

The Scottish Academy of Fashion showcase is held in collaboration with New Media Scotland at Inspace, Edinburgh University's appropriately innovative and creatively designed Informatics centre. It is open to the public this weekend, Saturday 2nd and Sunday 3rd July, from 12-8pm.

David Breckenridge said: "Fashion in Scotland is a serious business worthy of investment in research and development. Both the fashion and textile industries rely on innovation and the Scottish Academy of Fashion is helping drive that innovation by generating commercially relevant research and knowledge exchange with industry.

"We are a hub for Fashion in its broadest sense, a route into the interdisciplinary knowledge base in Scotland's leading universities, whether directly fashion-related or in complementary areas of textiles, interior design, engineering or informatics."

Managing Director Daniel Dunko explained why he became involved in the Scottish Academy of Fashion: "The design students had access to our archives and reinterpreted the designs from our extensive two-hundred-year heritage. We were so impressed with the high standard of the work produced that we selected four designs to go into production for our flagship store in Mayfair."

Scotland has a proven track record and worldwide reputation in education and the international fashion and textiles industries. In fashion and interior textiles Scotland operates in markets worldwide. The textiles sector alone is an important contributor to the economy, with an annual turnover of £876 million. Over 640 companies directly employ 9500 people across Scotland. Export values remain high despite the recent economic downturn; Scottish textile products bring £331 million into the Scottish Economy.

This inaugural event also marks the launch of Textiles Scotland's new three-year strategy which outlines the ambitions of this vibrant industry.