Trützschler presents itself on one stand at ITMA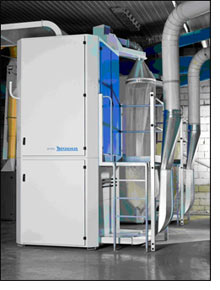 The 1100 m² Trützschler stand at ITMA event is located in hall 2 in the transitional space between the spinning and nonwovens area.

Exhibition Information:

ITMA 2011
Fira de Barcelona Gran Via, Barcelona, Spain
September 22-29, 2011

There the three Trützschler Business Units Spinning, Card Clothing and Nonwovens (formerly Erko and Fleissner) introduce their new machines and processes. New developments to increase efficiency and save energy take the centre stage.

The exhibition concept allows comprehensive and convenient information on all products of the three areas.

In addition to the classic topics of the three areas, the subject of man-made fibre production installations and carbon fibre technology will be presented as well.

The advantages of the joint and tight knit global Trützschler Service Network with all its options will be introduced in Barcelona. In this case, advice and optimisation of existing machines and installations take priority.

Optimised foreign fibre separation by combining sensors

A variety of sensors is available for foreign parts detection in the blow room. All sensors have strengths and weaknesses. There is no sensor that can detect all foreign parts. For this reason, three different sensor modules with corresponding lighting units are in use simultaneously in the new Trützschler Foreign Part Separator SECUROPROP SP-FPU.

Colour module

The Trützschler colour module features the latest generation of cameras. Two 3-CCD cameras scan the tuft flow from both sides. The cameras work together with lighting units with neutral light. Unlike simple colour sensors, the cameras can see everything the human eye perceives.


UV module

Cotton often contains non-transparent white parts from packaging. For the eye as well as for colour cameras they are difficult to distinguish from a cotton tuft. However, additional UV lighting makes these parts visible to the camera. This method utilizes the effect of fluorescence. In UV light, these parts appear light blue.

P module

Transparent and semitransparent parts, like foil pieces, present another problem. Sensors, designed for the detection of colours are not able to identify transparent parts. The Trützschler P module works with polarised light. The special lighting unit and an additional camera with polarising filter allow a reliable detection of even small foil pieces. Unlike colour detection with incident light, the P module uses transmitted light.

Separation of the foreign parts is as important as the detection. Here a special nozzle beam with 48 x 3 nozzles is applied. Each of the 48 separation points works with three small nozzles. They produce a clearly defined air jet. Speed sensors measure the speed of the tuft flow and the foreign parts, thus allowing an extremely short air blast at exactly the right moment. This saves expensive compressed air and prevents unnecessary fibre loss.