Rieter – Competence in four spinning systems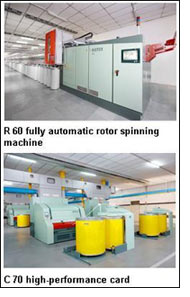 Rieter – competent partner of the spinning industry –presents for the first time four spinning technologies at the ITMA 2011 in Barcelona. As the only manufacturer worldwide, Rieter offers systems for ring spinning, compact spinning, rotor spinning and air-jet spinning. Rieter leads in technological competence and technical innovations for the benefit of customers. The numerous new products at the ITMA demonstrate this. With a complete system and global service, Rieter supports its customers worldwide.

The Comfort of Competence

Rieter is the leading supplier of installations for manufacturing yarns from short staple fibers. As a competent partner, Rieter is dedicated to making customers' lives easier by offering care and support from the initial investment discussions to the successful operation of a spinning mill. Rieter's comprehensive know-how from fiber to yarn and further up to the finished textiles provides the basis for the development of innovative machines that deliver a consistently high yarn quality.

Valuable Systems

Rieter is the only textile machinery manufacturer able to supply all spinning processes and thus provide customers with competent and independent advice, tailored to their individual needs. The outstanding price/performance ratio, high raw material utilization and the longevity of the products make an investment in Rieter machines extremely attractive. Since the company was established in Switzerland in 1795, Rieter's quality standards have remained at a high level. All manufacturing facilities worldwide are ISO-9001 certified.

Convincing Technology

With its comprehensive technological know-how covering all four spinning processes through to the textile end product, Rieter advises and assists customers in selecting the right spinning process. Five spinning centers, five textile laboratories and a modern training center in Winterthur are at the disposal of customers worldwide for spinning trials and training purposes.

Supportive Partnership

Numerous sales and service centers support customers throughout the world. With the installation of complete systems, following commissioning and successful operation customers can reap the benefits of a single contact for their entire spinning operations over decades.

New Products at the ITMA 2011

Rieter is presenting a range of new products at the ITMA in Barcelona in Hall 1, Stand C 118-120.

• The new VARIOline blowroom line for gentle fiber preparation, even at high production speeds and with a high level of contamination of the raw material.
• The new C 70 high-performance card, with increased performance and production quality compared to the predecessor model.
• The new RSB-D 45 draw frame with unique "mouse-free" sliver coiling, improved operation and a further increase in quality.
• The new R 60 automatic rotor spinning machine, that achieves a productivity rise with a new spin box.