SPINEXPO to discover latest fashion trends in knitting industry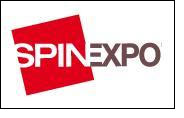 Founded in 2003, SPINEXPO features the most comprehensive international offering of quality yarns and fibres for knitwear and knitted fabrics, creative textile machinery and trend developments. Now in its 18th edition, SPINEXPO Shanghai takes place twice a year in the spring and the fall. SPINEXPO New York, now in its 3rd edition, takes place once a year in the summer.

The founder and organizer of the show, Karine Van Tassel, launched SPINEXPO after years of solid experience with many famous brands, such as Hermès, Madame Grès, Marithé & François Girbaud, Cacharel and Georges Rech.… SPINEXPO is not only a platform for suppliers and buyers to meet, but also for discovering the latest fashion trends, innovations and technologies in the knitting industry through an animated mixture of trends, seminars, and collaborations with leading universities resulting in a modern blend of creativity and new ideas that is commercially grounded for a 21st century lifestyle.

The 3rd edition of SPINEXPO New York will take place on July 18/19/20, 2011 at the Metropolitan Pavilion and Altman Building in NYC. Eighty-nine international exhibitors from America, Europe and Asia will unveil their newly launched Autumn/Winter 2012/13 collections to the American markets, in perfect timing with the US and European early buying and sourcing cycles.

Q: What gave you the idea to establish SPINEXPO New York and what's the position and strategy behind the show?
K: We came up with the idea to create SPINEXPO New York back when the industry was experiencing some difficulties. The USA buyers were no longer coming to the European shows because of budget, because their collection updates are more frequent, one after another, and time-wise it became increasing difficult to travel. The North American buyers that came to Shanghai told us they would prefer to have the information and selected exhibitors in the USA, and persuaded us to launch SPINEXPO New York. Since there was no similar yarn show in the USA, our personal analysis was that it was time once again to have a yarn and fibre show in New York! Even though we felt it was a bit premature, we were ready to do it. That is how SPINEXPO New York started. After the success of SPINEXPO Shanghai, we were sure we could achieve a successful show in New York as well, and it seems to be working!

As for the strategy, SPINEXPO is targeting mid-to-high level quality and creativity. We prefer to have a smaller offer of top level exhibitors targeting professional designers and buyers than just to have another large show in the lower range market, and this is not going to change.

Q: The 3rd edition of SPINEXPO New York is coming up soon. How has the show evolved?
K: Since we are not concerned about numbers of exhibitors or visitors at the show, we would rather focus on their quality and professionalism... We see that exhibitors are finding the show more and more interesting as they are requesting larger stands. Some of the younger companies are still trying to find their way in the US market, but they like what our show has to offer. They are developing a better understanding of how the market grows and exactly what the buyers who attend our show are looking for.