Monforts to provide energy solutions at ITMA 2011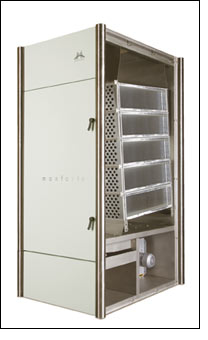 A. Monforts Textilmaschinen GmbH & Co. KG will highlight its complete product range for finishing, dyeing and sanforising at ITMA 2011 with special emphasis on energy saving solutions.

Monforts will be highlighting its complete product range with machines for finishing, dyeing and sanforising at ITMA 2011, in Hall 6, Stand C106; covering an area of almost 500m².

Special emphasis will be given to energy saving solutions and environmental protection.

Ever increasing costs of utilities including water, gas and electricity plus the rising price of commodities such as cotton are forcing textile producers to seek energy savings in a bid to maintain margins. Against this background of irreversible high costs for primary energy, Monforts as a market leader in manufacturing dyeing and finishing machines for woven and knit fabrics, is committed to reducing energy consumption by its customers.

With energy representing more than 60% of the total costs of a thermal system over a period of 10 years, it represents a constantly increasing expenditure. Consideration has also to be given to the cost factor, for example, for discharging the cleaned/recycled exhaust air into the atmosphere.

Heat recovery as standard
As part of Monforts ongoing effort to reduce energy consumption in the textile industry, its integrated heat recovery system is today fitted as standard on all new Montex stenters.

The system comprises a compact, air-to-air heat exchanger, which is installed within the roof structure of the stenter. The heat exchanger uses energy from the exhaust gas to preheat up to 60% of the incoming fresh air entering the stenter. Depending on production conditions, this provides energy savings of 10-35% and a typical payback period of around just 12 months.

Featuring large diameter vertical tubes, the heat exchanger requires very little maintenance with extended service depending on production cycles and fabrics being processed.

Energy Towers
Monforts 'stand alone' Energy Tower has been introduced for retrofitting to existing stenters or hotflues with restricted access above the units.

Designed to be positioned alongside the stenter or hotflue it features five integrated heat recovery modules. Capitalising on the high temperature of the exhaust air, fresh air passing through the heat recovery system is heated and ensures savings of up to 30% in energy costs to be achieved.

New Eco-applicator
A new improved soft coating solution provides a significant energy savings with reduced drying times.

Additionally it can also eliminate the need for a conventional wet-on-wet padder.

The new process uses trough and roller techniques and applies just the required amount of liquid/coating to the fabric via contact with the roller.

It has been designed for three options – to apply a liquid/coating to one side of the fabric; to apply a liquid to both sides of the fabric; or to apply a liquid to one side of the fabric and a different liquid to the other side.