Intl expo on knitting, dyeing & finishing machinery from Nov 23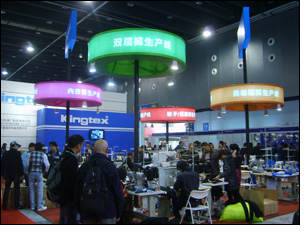 To provide an ideal marketing and promotion platform, the 12th China (Yiwu) International Exhibition on Hosiery, Knitting, Dyeing & Finishing Machinery (YIWU H&G 2011) will be held on 23-25 November 2011at Yiwu International Exhibition Centre, Yiwu, Zhejiang, PR China.

With a total exhibition area of 7,600 sqm, YIWU H&G 2010 attracted more than 150 quality exhibitors from 9 countries and regions, including Germany, France, Korea, China, Switzerland, Taiwan, Turkey, Hong Kong and Italy, showcasing some 300 sets of machinery. The 3-day show attracted 7,506 visitor flow.

Highlighting the influence of YIWU H&G in knitting industry, the Hong Kong Productivity Council organized its first-ever visit of more than 20 delegates to the show last year, while Zhuji Hosiery Association, Haining Hosiery Association and Pujiang County Knitting, Printing and Dyeing Industry Association returned a second time for negotiating and making on-site procurement.

New Zone Sparkles at Fairground:
Since its debut in 2000, the show has been evolving and improving itself to meet changing development needs by providing top-notch equipment and timely information.

With the high regards and praise from local and global knitting industry players, YIWU H&G 2010 attracted a number of sewing and garment machinery exhibitors, including Ming Jang from Taiwan and Kingtex, as well as Shanghai Yin Science & Technology Co., Ltd.

They seized the opportunity to leverage on the show platform to showcase their leading products and technologies.

To continue last year's success, the organizer is going to open a new zone for sewing and garment machinery in YIWU H&G 2011. This provides a direct and convenient way for buyers to locate target exhibitors.

Leveraging on Yiwu's Advantages on Trade for Fruitful Result:
Pivotal not only to the city but the country as a whole, knitwear industry has long been an important industry in Yiwu. In this context, YIWU H&G is developing fast in branding and internationalization. Its unique charisma to the knitting enterprises echoes with Yiwu's knitwear cluster and flourishing knitwear industry.

Yiwu is dubbed as "China Famous Hosiery City", "Hosiery Brand Base in Zhejiang" "China Seamless Underwear Knitwear City", "China's Famous Thread & Ribbon Weaving City", "China's Zipper Manufacturing Base" and many other reputations as a national production base.

Hosiery is one of the important branches of Yiwu's knitting industry. Home to 1,425 enterprises, Yiwu exported more than US $600-million worth of hosiery in 2010, representing 12.1% of the nation's total.

Furthermore, Yiwu, with an annual production of more than 150 million sets of seamless underwear, is a national and global manufacturing base of seamless knitwear, supporting more than 150 manufacturers and over 30,000 workers.

Over the years, Yiwu has built up a relatively complete supply chain, from R&D, design, accessories production to technical services.