A successful kick off of the season: Première Vision Preview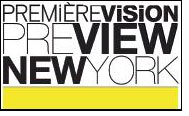 Once again, Première Vision Preview New York showcased the tremendous creativity of the fabric and textile industry. On July 13 and 14, 102 exhibitors from some of the world's finest mills gathered at Manhattan's Metropolitan Pavilion and Altman building.

For two days straight, fashion's major players enthusiastically shopped at a steady pace. At Première Vision Preview New York, visitors were thrilled to connect with suppliers, and gain the resources and knowledge essential for creating fresh, innovative collections.

The 3,008 visitors represented fashion's top design houses, prominent brands, and major retailers. High-profile industry leaders such as John Varvatos, Barneys New York, Nordstrom, Guess, Oscar de la Renta, Elie Tahari, Ports 1961, Geoffrey Beene, Neema Clothing, Chico's, and Polo Ralph Lauren Menswear attended the show, proving that there is an unyielding demand for quality fabrics.

Exhibitors gave overwhelmingly positive feedback, particularly regarding the number and the caliber of the attendees. "This year is busier than last year," commented Ruentex Industries(TW). Akin Tekstil (TR) affirmed that they reached their target customers. Having met visitors from Canada, South America, Florida and California, Solstiss (FR) was impressed by the attendees' diversity. Visitors were not only diverse in nationality, but diverse in market segment and company size.

Many well-established brands, as well as several young designers were present, observed Lanificio Subalpino (IT). Erica Industria Tessile (IT) commented that they were seeing "a lot of new faces." Both Lanifico Subalpino and Erica Industria Tessile remarked that they made valuable new contacts at Première Vision. On the whole, the exhibitors were extremely pleased with the turnout.

Every year, Première Vision Preview strives to enhance its offer and adapt to the needs of an ever-changing North American market. Sportswear is still in great demand in North America, but this year's exhibitors also presented more formal offerings. Another new highlight at the show was a cocktail reception sponsored by UBIFRANCE.

At the reception, exhibitors and buyers could network in a relaxed setting, and view designs by the finalists for the 2011 Hyères International Festival of Fashion and Photography and the work of the winner of the Première Vision Prize, Celine Méteil. Also added after the last January edition was a survey, which gave visitors the chance to offer input and suggestions. This survey exemplifies Première Vision's dedication to fulfilling the requests of its clientele.

In addition to making connections, visitors were able to get a sneak peek of what's coming up in Fall/Winter 12-13 at the Trend Tasting seminars. Forecasted trends included bright color palettes with limited use of neutrals, high contrast color combinations, highly technical designs, wool with a feminine character, and knitswith decorative quilt textures.

Next up, Direction by Indigo's textile and surface design show will take place on August 2 and 3 at the Metropolitan Pavilion, followed by Première Vision Paris on September 20-22.

Première Vision S.A.