Spinners expected to end Sept quarter on better note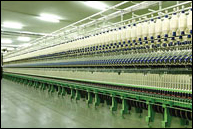 Indian textile spinning mills reported their best ever profits in the quarter ending March 2011. There is also optimism that quarter ending September 2011 could also turn out to be better than quarter ending June 2011. Expectations have also been built that the whole fiscal year 2011-12 could also turn out to be good.

"September quarter will bid well, particularly for spinners. Cotton prices are expected to be steady at around Rs 36,000-38,000 per candy and expected demand from weaving sector is likely to start in the month of October", said Mr R Natarajan, General Manager (Textiles) - Gherzi Eastern Ltd.

Mr Chaturbhuj Singhania, Director - Sutlej Textiles & Industries Ltd avers, "So far, we think that the September quarter should be better than the quarter ending June 2011. Quarter ending June was very bad.

"But, as far as fibres are concerned, it was a boom period, when compared with the quarters of the previous fiscal year (2010-11); a boom which has not happened in the history of the textile industry.

"However, whatever peaks have been achieved are not going to last forever and the mindset is that the spinners have earned a lot of money in the last quarter or in the last fiscal year and they are expecting a repeat of the same, which may or may not be possible again. So compared to the first quarter, the second quarter is a little better and gradually will improve".

Mr Natarajan adds, "A slowdown in spinning operations and an increased switch to chemical fibres are stated to be curtailing demand for cotton and are reducing its share in world fibre use. It is said that, many mills are waiting for the 2011-12 cotton crop to become available, to resume operations at full capacity.

"After reaching historic highs, world cotton prices crashed all of a sudden in tandem with the global commodity prices in April. Domestic cotton prices (Shankar-6 variety) rose from Rs 30,000 a candy in September 2010 to Rs 63,000 during February-March 2011. It crashed to Rs 45,000 a candy in April 2011 and to Rs 31,000 per candy two days back.

"Meanwhile, demand for yarn has also been declining steadily. Prices of the 30's count yarn that shot up to Rs 260 per kg in February-March, has come down to around Rs 170 now and still, there are not many takers.

"Due to the poor demand, yarn stocks with the mills have increased to about 500 million kg. Since mills stock cotton which can last them for 2-3 months, most of them had bought cotton at high prices and are currently stuck with yarn produced from high cost cotton.

"At present, the Indian spinning industry, is sitting on a yarn stock of roughly 440 million kg, while the normal level is 150 million kg. The speculation that prices would sink further, restrained domestic fabric buyers. Against the average monthly off-take of 170 million kg, the domestic off-take of yarn was only 120 million kg in April 2011.

"In the present scenario the spinners who have kept minimum inventory of cotton shall make good profits. Big spinners, who had or have large inventories of cotton bought at high prices, are finding it very difficult to survive in the present situation".