Highest ever quarterly financial performance, Reliance Industries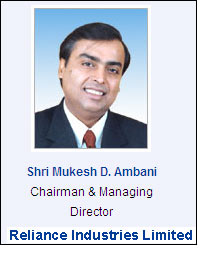 Reliance Industries Limited (RIL) reported its financial performance for the quarter ended 30th June, 2011.

Highlights of Quarter's Performance:
- Turnover increased by 37.2% to ` 83,689 crore ($ 18.7 billion)
- Exports increased by 57.5% to ` 51,737 crore ($ 11.6 billion)
- PBDIT increased by 9.3% and achieved a record level of ` 11,005 crore ($ 2.5 billion)
- Profit Before Tax increased by 20.3% to ` 7,264 crore ($ 1.6 billion)
- Cash Profit increased by 5.5% to ` 9,006 crore ($ 2.0 billion)
- Net Profit increased by 16.7% to ` 5,661 crore ($ 1.3 billion)
- Gross Refining Margin at $ 10.3 / bbl for the quarter ended 30th June 2011

Reliance Industries Limited (RIL) has been informed that the Cabinet Committee of Economic Affairs has given its approval to the proposal of RIL to assign 30% of its interest to BP Exploration (Alpha) Limited in 21 out of 23 Blocks. RIL will pursue with the Government to resolve the issues, if any, concerning the balance two blocks.

Reliance Industries Limited (RIL) announced a rich gas and condensate discovery in the very first well drilled in the block CY-PR-DWN-2001/3(CYPR-D6) located in deepwater Cauvery-Palar basin. The block with an area of about 8600 sq km was awarded to RIL under the bidding round of NELP-III. RIL currently holds 100% participating interest in this block. This is one of the 23 exploration blocks where BP would have 30% participating interest.

AXA, Bharti Enterprises ("Bharti") and Reliance Industries Limited ("RIL") reached an understanding on the acquisition by RIL and its associate Reliance Industrial Infrastructure Limited ("RIIL") of Bharti?s shareholding of 74% in Bharti AXA Life Insurance Co. Ltd ("Bharti AXA Life") and Bharti AXA General Insurance Co. Ltd. ("Bharti AXA GI").

Commenting on the results, Mukesh D. Ambani, Chairman and Managing Director, Reliance Industries Limited said:

"Reliance Industries continues to deliver strong financial and operating results. The growth in earnings was driven by strong refining margins and sustained performance in the petrochemicals business. Our cash flows give us the unparalleled opportunity to allocate capital to higher-margin resource plays in leading markets around the world. We remain committed towards investing in India and have commenced the investment program in the petrochemical business."

RIL's gross refining margin (GRM) for quarter was at $ 10.3 /bbl as against $ 7.3 /bbl in the corresponding period of the previous year. Singapore complex refining margin averaged at $ 8.5/bbl for 1Q FY12 which is double of the level in 1Q FY11.

For the quarter, return on capital employed for the segment improved significantly to 18.2% due to sharp improvement in the refining margin.

RIL processed 17.0 million tonnes of crude and achieved its highest ever average utilization of 110%. Average utilization rates for refineries globally during the same period were 83.3% in North America, 74.1% in Europe and 85.1% in the Asia.