GUNOLD satisfied with new format of Texprocess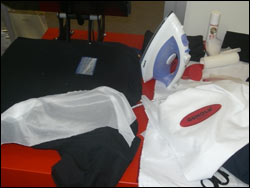 The debut of Texprocess, the new international trade fair for processing textile and flexible materials (May 24-27, 2011) in Frankfurt, was a huge success for Gunold GmbH.

We have been extremely busy on all 4 days of the trade show and there was a tremendous interest in our complete range of embroidery supplies. Stephan Gunold, Marketing Manager, is happy to announce. "No question, the show far exceeded our expectations and we are quite satisfied with the successful start and the new format of this show.

Customers specifically asked for embroidery solutions and this has been the main focus of this company, based in Stockstadt for many years now. The customers were visibly impressed by the easy handling of the new THERMOFIX. Now ironing-on of emblems and patches is a breeze. With this new material it is easy and fast to affix embroidery designs onto jackets, shirts and fabrics. Permanently – even after frequent washings.

We were able to demonstrate the easy use of Thermofix for appliqués and everybody was thrilled.

"The similar texture to non-wovens convinced the trade show visitors in particular -no crimping and coiling up which happens quite often when cutting adhesive films," Stephan Gunold points out. The trade show visitors were also quite interested in all the other new products. First and foremost in the new POLY Fire, a flame-retardant polyester thread which is available in 27 popular colours and is tested according to EN 533 Index 3 now certified according to EN ISO 15025 and EN ISO 6941. In addition the brand new BOBBY FIL 120 L, a pre-wound bobbin thread, with no sides and no core convinced a lot of customers.

Customers have always been amazed by the wide product range of Gunold's stabiliser assortment STIFFY- the same was true in Frankfurt. 30 different stabiliser alternatives offer the right choice for every fabric - a cut-away or tear-away stabilizer, one with a coating or a self-adhesive non-woven. Customers were also very much impressed by the brand-new self-adhesive embroidery backing which is called FILMOPLAST now. It comes in different make-ups to fit popular embroidery hoops, in black and white and in different widths. The weight of the new FILMOPLST corresponds to the former type 140. And last but not least, embroidering on an embroidery machine was also demonstrated at the show. This was done is various ways.

You could watch a real demonstration on an embroidery machine (Happy) where appliqués with TWILLY and the polyester thread POLY were embroidered and at the same time, the new, easy-to-understand video training series with the same topic was shown on a screen. Furthermore the video 'Embroidering on Terrycloth', surprised a lot of visitors. To put it in a nutshell, one trade show visitor remarked: "Oh! It's as simple as that! "

Just to demonstrate how easy and exciting embroidery can be, Gunold has been offering a popular and frequently updated seminar program for 8 years now. The seminars are perfect for continuing education and employee training.