Parag Handloom survives onslaught of powerlooms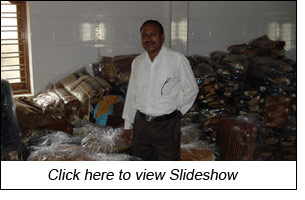 If he had his way, he would have been a doctor, but fate had something different in store for Pragjibhai Ziniya. However today, Pragjibhai does not have any regrets. Since, he is one of the biggest producers of handloom based home and automobile furnishing products in the private sector in Gujarat.

The handloom business was set up by his father way back in 1960. His father taught vocational skills in a school, which included handloom weaving. With the passage of time, the vocational courses became more advanced and handloom training section was wound up, and he had to retire before time.

Since handloom weaving was not a part of the new vocational course, the school handed over the 11 handlooms to Pragjibhai's father at a small token amount. Thus was laid the foundation of a handloom production unit, which exists today, even after half a century and is still flourishing.

In the beginning they used to produce dhoties, bedsheets and handkerchiefs etc. However, with the advent of mechanical looms, handlooms began to loose their relevance in the Indian textile scenario. Handloom products began to be woven on the faster powerlooms that too at reduced costs.

In the early 80's, when the family realized that they could no longer compete with the powerloom sector, they decided to change their product offerings. They made motorbike seat covers and door mats. The fabric was produced from the waste yarn salvage of powerloom beams used to weave fabrics in textile mills.

Mr Pragjibhai is also a proud recipient of 'Best from Waste' award which he received from the Governor of Gujarat for producing the motor bike seat covers from waste yarn. However, once competition increased and margins dropped, they once again diversified in to the current product range in mid-1990s.

Today handlooms in India are surviving only because of the largesse of the Union Government and State Governments which dole out incentives to weavers cooperatives to ensure employment generation in rural areas.

However, Parag Handloom and Handicraft - the firm managed by the Ziniya family has survived such trying times and still managed to flourish despite the advent of powerlooms.

On this Pragjibhai reacts, "We have managed to survive only because we are manufacturing handloom textile products, which cannot be produced on the powerlooms".

He added, "We manufacture door mats, dhurries, car and sofa set coverings from very coarse yarn, which cannot be woven on any kind of powerlooms. Several textile biggies tried in the past to make our type of products, but failed as they could not manufacture the products from thickness and quality that is required".

He continued saying, "You cannot survive in the handloom industry, if you produce textile products, which can also be manufactured on powerlooms, as they are very cost competitive. That is the reason handlooms which still make dhoties, bedsheets, handkerchief fabrics, etc are finding it difficult to survive".