Macart's new approach to HB acrylic yarn manufacture @ ITMA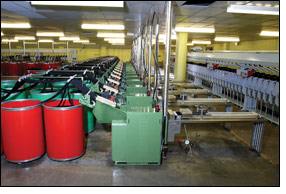 Macart (Stand No. H2-B113) will exhibit the latest innovations in yarn manufacture with the new self twist spinning for HB acrylic yarn at ITMA, Spain.

The Macart spinning systems S300 machine combines the roving, spinning, twisting, yarn bulking and take up winding operations into a single process to produce two fold yarns in the court range 2/16Nm to 2/42Nm High Bulk acrylic. The self twist yarn is ideally suited for the production of industrial machine knitted garments made from HB acrylic yarn. Each 4 spindle S300 produces four off two fold yarns for delivery onto 4 spindles of winding.

Several machines can be placed side by side to give a production unit to suit the customer's production demands.

Up to 15 machines can be connected to an automatic winder of 60 spindles. Manual winding can also be used to lower the capital investment costs. The delivered 150mm conical package is ready for industrial machine knitting without any further operations.

Depending on resultant yarn counts the production of each 4 spindle S300 will be between 2.5kg and 7kg per hour. One spindle of a typical 2 fold HB acrylic yarn will produce 1 Kg per hour of relaxed high bulk yarn wound on cone ready for knitting.

Energy - The low energy consumption compared to a traditional spinning process gives energy saving of up to 60% per kilo of yarn manufactured.

Labour – Using the S300 technology upto six separate manufacturing processes are saved compared to conventional ring spinning. The savings for direct and indirect operatives are upto 60%, as fewer skilled engineers are required.

Capacity Utilization – Saving in floor space and material storage handling areas are considerable, thus utilising capacity to its absolute optimum.

Applications – The S300 will process synthetic staple fibres, natural fibres and their blends with fibre lengths suitable for worsted spinning.

Count Range – 2/16Nm to 2/42Nm

Production Speeds – Delivery speeds are from 200m/min to 240m/min. The delivery speed remains the same for all yarn counts.

The point to highlight is S300 reduces by up to six, the number of process in your factory used for the production of conventional 2 fold HB acrylic yarns. In essence generating savings in areas such as labour, energy, floor space and air conditioning, maintenance and spare parts consumption as well as the waste produced.

Manual doffing or fully automatic winding the choice is yours. On the S300 with manual doffing, each spindle of the winder has an individual motor with inverter control. The sensors above the yarn belts control the winding speed and the reserve allows time for manual doffing to take place without the S300 spinning system stopping.

High quality wound packages for onwards processing in knitting, or package dyeing.

Customers who process coloured fibre can choose delivery on either manual doffing winder or a fully automatic winder with electronic clearers, air splicing and automatic doffing.