Dilo to exhibit & run complete production line at ITMA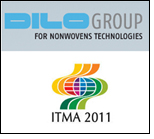 DiloGroup, the leading supplier of complete production lines for staple fibre web forming and consolidation, enjoys the same strong order inflow as during 2007 and 2008 with potential further increases. Dilo, therefore, looks forward with confidence to the ITMA show in Barcelona where we will present a complete nonwoven production line on a floor space of 1000 m².

The nonwoven staple fibre sector is still characterized by high demand and dynamic development in numerous application areas such as floor coverings, automotive interior linings, geotextiles and roofing material, filter media, synthetic leather, upholstery and mattress felts, thermal insulation, wipes for industry and household, special applications involving carbon fibre, glass and mineral fibres, technical and papermachine felts, medicine, hygiene and apparel.

For all these applications DiloGroup offers universal and special production lines which are adapted to the market and customer requirements. The research and development work applied to all line components, starting with fibre preparation including opening and blending, web forming and consolidation aims at fibre material savings, less energy consumption, increased production, higher efficiency and availability, improved ease of operation, reduction of downtime for maintenance, service and cleaning, improved web mass homogeneity and better felt surface quality.

In this context Dilo will exhibit and run a complete production line at the ITMA show which will comprise the following components:

DiloTemafa equipment for fibre preparation, i. e. opening and blending, consisting of 2 bale openers. One bale opener – type Baltromix – for high throughput, the other – type AlphaMix – for medium throughput capacity. The opened fibre flocks will be fed on a blending apron to a carding willow for further opening and blending and subsequently to a dosing opener and a fine opener which provide a constant fibre flow to the card feeding system controlled by a special control loop.

The dosing opener has a fine opening stage to deliver the optimum flock size for card feeding. The two-sided fibre infeed "Twinfeed" for the new MultiFeed card feeder is a distinctive feature. Double infeed and vibration effects on a suction infeed apron result in a very homogeneous feeding of the card and thus in a very homogeneous web mass.

The new MultiCard is a universal card which has been especially designed for operation in combination with a crosslapper. An optimum cost-performance ratio for this card has been realised by using computer-aided design and analytical research.

The MultiCard is characterized by extraordinary ease of maintenance and superior accessibility for cleaning and service work. The MultiCard shown at the ITMA has a suction and filter system designed by the "AirSystems Engineering" department of DiloTemafa. The sound insulation of this suction and filter unit is secured by "Temafa SoundControl".