Textile sector particularly spinners facing testing times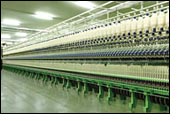 The Indian textile and clothing industry is going through a turbulent phase over volatility in raw material prices and a dip in exports orders. To add to their woes, the government imposed 10 percent excise duty on branded garments.

At a recent textile conference held in Ahmedabad, Mr Anand Parekh – President (Textile division) – Reliance Industries Ltd had said that the volatility of prices and turbulent times witnessed by the textile sector cannot be compared with any period in previous years.

The apex textile body - Confederation of Indian Textile Industry (CITI) too had written a letter to the Prime Minister seeking immediate redress for the textile sector. According to CITI, the overall estimated loss to the sector stands at Rs 110 billion in the last three months.

Of which, in the case of cotton only, CITI estimated the loss at Rs 60 billion considering the high-priced stocks lying with all across the cotton-value chain, which it pegged at 6.5 million bales and losses to the man-made fibre textile sector have been calculated at Rs 5 billion.

Explaining as to how this crisis began – Mr DK Nair, Secretary General – CITI said, "Mills normally maintain 3-4 months of cotton stock. Now, when cotton price went from Rs 30,000 to Rs 63,000 per candy, mills had bought cotton at those high prices too.

"Then, within a period of two weeks, prices started to crash and were quoting around Rs 31,000 per candy last week. This means that on every candy of cotton, mills lost about Rs 20,000-25,000, which amounts to a huge loss.

"The problem is that, if you convert that cotton to yarn you cannot sell it at the current prices and if you do not convert it to yarn then it means that you are carrying the costly cotton stock with you and the recurring charges will take your working capital away. This was the beginning of the crisis".

He continued by saying, "Now, similarly, the demand for cotton yarn substantially came down. Hence there was a similar decline in their prices also. About 500 million kg of cotton yarn was stuck with the mills; they were not able to sell it. This means working capital is fully stuck with high cost cotton stock and unsold cotton yarn stock.

"Similarly, the weaving industry too is stuck with high cost yarn, which cannot convert as fabric process too have declined. The garment sector also faces the challenge of inventory of high-priced fabrics. This crisis has affected every segment of the cotton value-chain and spared none.

"However, the worst hit were the spinners, as it is very difficult to reduce or totally stop production. In fabrics & garments most of the output is in the decentralized sector and can stop production if there are no orders, which cannot be done by the spinning sector. Despite which, a few spinners reduced output or have completely closed down.

"Since about 10 days now, there is a marginal improvement in the market. Domestic demand is also slightly improving and exports have also been moving and the reports on international markets are also very good.