GUNOLD: Embroidery Seminars - success story continues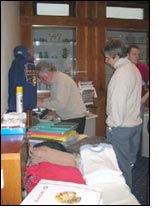 Gunold has conducted embroidery seminars and workshops for eight years now. In 2003 Gunold, GmbH established its embroidery seminars series with the slogan "Professional Embroidering Made Easy".

Nowadays it is almost impossible to do without any of these seminars if you take embroidery seriously. More than 1000 embroiderers and start-ups in Germany, Austria and Switzerland have benefited from the vast experience of embroidery and punching expertise and continue to do so every day. Now, a new chapter is opened starting October of this year: Distributors, who have already sold Gunold's products throughout Europe for many years now, will take part in extensive product training at the seminar centre in Stockstadt, similar to the many seminars and workshops already conducted by Gunold.

It all started in 2003 with the first seminar topic: "Embroidery Supplies- The Basics" After that more and more topics like punching have been added as well as workshops conducted by the two embroidery authorities Daniela Hutter from Emtrain and Massimo Baezzato from Constitch. Both experts not only demonstrated their exceptional skills but have been able to share their secrets of embroidery techniques with the seminar participants, combined with expert advice and manifold ideas of how to use embroidery supplies.

In addition, there is a formula for Gunold's success: workshops true to the slogan "Learning by Doing". Where else do you have the opportunity to test your just acquired knowledge directly on the embroidery machine? Stephan Gunold, responsible for Marketing and Seminars, points out: "Eight years ago we started our seminar program because of the continuous growth of embroidered textile promotional items and embroidered promotions wear. At that time embroidery companies owning 1-, 2-, or even 4 head embroidery machines mushroomed in almost every town. However, the founders of these companies did not have any embroidery knowledge whatsoever; they were not at all familiar with this kind of industrial art. The owners were under the impression an embroidery machine is all you need to do the job.

Embroidery Know-How Goes Global
GUNOLD's effort to share the necessary embroidery know-how with these newcomers to the embroidery business has been made possible through seminars and workshops. Since 2009 Gunold has also added two managerial seminars to their seminar program: "Pricing and Cost Accounting" as well as the two day sales training "Negotiating Skills and Sales Techniques". Now "Going Global" is next on their "to-do list". This idea was again brought up because of the great interest in specialty products, more precisely because of the knowledge gained from experience at this year's Texprocess in Frankfurt.

GUNOLD distributors were impressed by the detailed presentation of the latest products FILMOPLAST und THERMOFIX. They pointed out: "Now we know exactly how to apply these products and it gets a lot easier to explain all the details to our customers." For the first time now, two seminars for distributors in English and French will be held in October, explaining the latest products and their correct handling. And who knows, additional foreign language seminars might follow in the near future. Until then, there is always the opportunity to participate in one of the German seminars which take place in Stockstadt and Hamburg, during the second half of 2011. The topics are: "Embroidery without Hooping", "Punching- The Basics", "Embroidery Supplies-The Basics" and "Hands-on Punching Training". In addition, managerial skills training workshops are also offered:"Sales Techniques" and " Pricing and Cost Accounting ".