Katmandu's new green dyeing process to be displayed in Las Vegas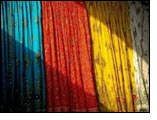 With all the pressures on the fabric dyeing industry to use less water and since the release of the report by Greenpeace on Fabric Dying in China, Katmandu and Critical Masses' phones, emails and fax machines have been ringing from companies within the United States, the E.U., Latin America, China, India, the Middle East, and South Africa. All of these companies are asking about the new green dyeing process called Kinetic Colorization, which uses Physics, not water or chemicals, to colorize fabric with dispersed dyes.

The process will be on display at the MAGIC show in Las Vegas NV .The U.S. Department of Commerce are hosting an Americas Pavilion and Summit - "Sourcing in the Americas" - to highlight the United States and Western Hemisphere supply chain network.

At the OUTDOOR RETAILER, just a little over a week ago, Katmandu and Critical Mass meet with many of the leading outdoor brands and manufactures about the technology of Kinetic Colorization. They discussed how it can be used not just with polyesters, but also with most nylons, including rip stop and Cordura. The potential uses are for apparel, back backs, tents and accessories.

Over the past few months, a revolutionary new DEPSOC360 Camo pattern was developed by HDI, a Yuba City California based Research and Development Company, and MMI, a Montgomery Alabama based Defense contractor that went to Katmandu to produce a range of products that would utilize this green process. The products include tents, backpacks, hide sites, and a proprietary thermo mitigation technology developed for the U.S. Special Forces. "The Kinetic Colorization process enhances the thermal mitigation properties of our special fabric in addition to offering us a responsible green colorization option," said Brian Henry President of HDI. Currently, these technologies are being tested at the highest levels of the U.S. Military for finial field validation.

MMI has partnered with Katmandu to offer this new green technology of Kinetic Colorization that does not use water to dye NYLON fabrics to the US Military. "We are very excited about being on the cutting edge of a green technology that works", stated David Cobb, the President of MMI.

"Kinetic Colorization uses physics not chemicals or water to dye fabrics and nylons", stated Barbara Carlsen a VP at Katmandu, who will be at the upcoming Magic Show in Las Vegas. (Booth number 67019) introducing Kinetic Colorization to the fashion industry. Katmandu and Critical Mass will be showing many examples of the capabilities of Kinetic Colorization. These will include both single and double sided dyed fabrics on a wide variety of polyesters, Nylons, and blends.

At the recent OUT DOOR RETAILER held in Salt Lake City, many companies were viewing the double and single sided Nylons that were done with the process of Kinetic Colorization. These included Invista S.r.a.L., Kelty, NISH, North Face, Hurly International , Brookwood, and Victory Koredry. Over 300 full book samples were passed out to buyers and manufactures from the surf, SUP, back pack, tent, and apparel companies that were attending the show, or who had made appointments to meet with Katmandu.