OEKO-TEX at ITMA 2011 in Barcelona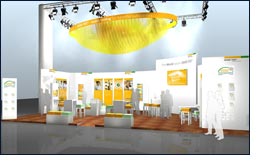 In its role as provider of the world's leading independent certification system for checking textiles for the presence of harmful substances (OEKO-TEX Standard 100), this year will once again see the International OEKOTEX Association with its own trade fair stand at the premier trade event for innovative textile machinery and production technologies, ITMA in Barcelona. Between 22 and 29 September there will be a total of 36 experts from the 15 OEKO-TEX testing institutes and their 50 contact offices in 60 countries around the globe available in Hall H4-A162 to provide detailed information on the requirements and concept for the OEKO-TEX process for testing for harmful substances.

Against the background of the approaching 20th anniversary of OEKO-TEX in the coming year, on the occasion of the "Textile Dyestuff and Chemical Leaders Forum" on 26 September, scheduled for 09.15 in Room 5.3 at the trade fair conference centre, OEKO-TEX Secretary General Dr. Jean-Pierre Haug will also be presenting the benefits of the "Confidence in textiles" label and the additional possibility of having production premises certificated to OEKO-TEX Standard 1000 for companies spanning the entire chain of added value in textiles, to allow them to position themselves successfully in the globalised market.

Visitors to the ITMA event in Barcelona looking for a quick overview of the main aspects of OEKO-TEX certification and the technical competence of OEKO-TEX member institutes will find all the information they require along with a download option for information brochures and the necessary application forms on a trade fair portal to be set up in the near future specifically for the purpose at website. Also available here is a complete overview of all of the OEKO-TEX contacts available on the specific days of the trade fair and a facility for setting up meetings.

It is the aim of the OEKO-TEX Association to provide personal and competent support for both existing certificate holders and interested textile companies in all of the main manufacturing countries and at international events in the sector - such as ITMA – in order to create the best possible basis for fulfilling the required criteria in terms of quality assurance in their works. To date, across the globe there have been over 100,000 OEKO-TEX Standard 100 certificates issued covering millions of textile products of all kinds.

At present there are more than 9500 companies in the textiles sector actively involved in the OEKO-TEX certification system and consistently working to the required testing criteria in their production. From the international perspective, however, for a wealth of other initiatives, associations and organizations the OEKO-TEX Standard 100 serves as a model when it comes to excluding any possible harmful substances in textiles, with many companies stipulating its application as a standard requirement in their technical supply specifications, as providing evidence of human-ecological quality.