Textures in rich grays will thrill you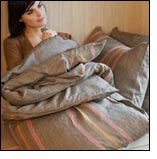 The luxury bedding market is showcasing its 2011 Fall lineup in Atlanta and NYC in July and August respectively, bringing cooling colors of fall to the market's full attention, and to Elegant Linens, luxury bedding retailer. Okay, sunny summer skies still shine overhead, but at heart, most people are ready to say goodbye to the sultry heat and step into their winter jeans and sweaters because of the outdoor chill. Happily, consumers may now fill their bedrooms in advance of those cooler days with the soothing colors of fall found in the Fall 2011 luxury bedding collections. A variety of textures, rich patterns and lots of grays dominate the fall lineup.

Sferra's Fall 2011 collections are delightful in detail and soft in color. One of their premier beds is the Barrett Champagne, an Egyptian cotton sateen jacquard in a visually enticing scroll pattern. The duvet is backed with Egyptian cotton sateen; the shams are backed with in the jacquard and finished with a plain hem. Italian woven in a classic style, this subtly embellished bed is both glamorous and sweet. Paired with this bed are their new accent pieces, the Jolie Stack pillows, available in Ice or Pearl, which feature a delicately embroidered floral border on 100% silk. Their new collections also include the Asti, featuring a tonal quatrefoil pattern that is understated and classic with a modern flair.

The blanket covers and shams of this collection are sanforized to reduce shrinkage and are finished with a flanged border. Their Avellina displays an au courant tonal pattern of criss-crossing lines in varying widths. This is a lovely sateen jacquard bed, and the duvet covers and shams are finished with a punta ombra hem treatment for extra flair. The Como throw is made of Merino wool and finished with a delicate fringe. For the table, they are introducing new fall colors for their popular Festival linens, all of which are finished with a single row of hemstitching and are available in up to 101 different colors.

SDH's fall luxury bedding line is also rich with texture, grays and pleasing prints. SDH's grays are expressed through their colors Iron, Caviar, Charcoal and Smoke, among others like Pearl. Some SDH luxury bedding collections featuring the grays are their Jazz Caviar, a deliciously textured bed in a sumptuous Italian silk and Egyptian cotton blend; the Tivoli Pearl, a 4 color yarn-dyed collection; and Lyon Iron, a strikingly beautiful bed with an ornate border and centerpiece design. To add color, SDH's Ruby line has duvets and decorative pillows in both Lichen and Chili, with a cover and decorative pillow available in Charcoal.

They also have the Elba and Malta Honey collection, adding lovely fall earth tones to their lineup. Their Kent collection consists of yarn-dyed Italian linen twill and is paired with Canterbury sheeting, a yarn-dyed Italian linen sateen, notably the only yard-dyed Italian linen sateen available in the luxury bedding market to date. Their new Pouf style, which provides a sensory feast, comes in many colors, including Pouf Purist and Pouf Caviar, and is available in shams, covers and throws to add bliss and texture to any bed.