Youngor stays ahead on quality with Thies iMaster H2O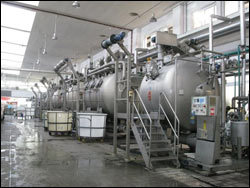 The Ningbo-based Youngor Group, a fully integrated producer that has its own brand names and retail outlets, has installed China's first Thies iMaster H2O dyeing machine at its Ningbo Sunrise Dyeing and Finishing subsidiary.

China's Ningbo Sunrise Textile Dyeing & Finishing Co, a subsidiary of the giant Youngor Group whose core business is in branded garment manufacturing and marketing, has invested in China's first Thies iMaster H2O dyeing machine as part of its strategy of continual investment in quality production technology.

The recently-launched iMaster H20, designed for fabrics and knitted goods and offering ultra-low dye liquor levels, was installed at the plant in January this year.

"We have been working with Thies equipment for the past few years and so are very familiar with the product and with the company's office and personnel in Shanghai," says Ningbo Sunrise dyeing manager Cao Xiao Dong.

"As a group, our policy is one of continual investment for quality, and we were very interested when the iMaster H2O was announced. We discussed the potential with the Thies people in Shanghai, and installed the machine directly after Chinese New Year."

The Youngor Group, a multinational corporation employing over 50,000 people and listed on the Shanghai Stock Exchange, has in recent times become a vertically integrated organisation in textile and garment manufacturing.

The business stretches from all stages of production and development through to the branded garment sectors, with the group now operating a network of over 100 branch offices, 400 company-owned stores, and over 2,000 outlets across China.

Own-brand names include Mayor, Youngor, GY and Hemp Family, and range across the product range from shirts, suits and trousers, to casual jackets, ties and T-shirts. Youngor shirts and suits have been brand leaders in the Chinese market for several years. Youngor also represents US brand name Hart Schaffner Marx in the Chinese market.

Ningbo Sunrise Textile Dyeing & Finishing Co is chiefly engaged in yarn dyeing, weaving, printing and finishing, and is regarded as being one of the most advanced production lines in China of cone and beam yarn dyeing, airjet weaving and continuous roll dye finishing.

The mill's annual production capacity is 11,000 t of yarn for dyeing, 45 million m for weaving and 50 million m for finishing.

Ningbo Sunrise is located within the Youngor Textile Industry Complex at the new urban district of Yinxian, at Ningbo city, alongside other specialist subsidiaries including Ningbo Youngor Worsted Spinning, Weaving & Dyeing Co and Youngor Knitting Fabrics.

Driven by the latest international developments in textile technology, Youngor has recently invested in the highest quality dyeing, spinning, weaving, and finishing machinery and equipment, and now possesses a solid foundation for an efficient production process from raw material to fabric.