bluesign approved for Allied's feather and down products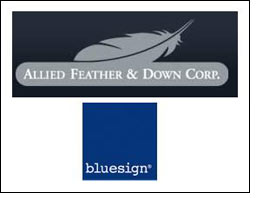 Allied Feather & Down, a global, family-owned purveyor of feather and down, announced that it has received certifications stating that all Allied products are bluesign approved for textile manufacturers. This approval marks the first 100% natural, feather and down products to receive the bluesign certification and places the company on an elite list of approved raw components for textile manufacturers committed to following the most stringent, environmentally-friendly standards without compromising functionality or quality.

The bluesign standard guarantees that along the entire production chain, products only contain components and pass through processes that are harmless to people and the environment. The bluesign standard is built around five key principles – resource productivity, consumer safety, air emission, water emission and occupational health and safety – and is designed to foster a healthy, responsible textile industry.

Allied Feather & Down provide a 100% natural, environmentally-friendly product that has evolved for 300 million years, saves energy and offers the world's best insulation. Down and feathers are a unique natural resource which Allied manufactures via proprietary processes that take sustainability into careful consideration. Always vigilant of their footprint on the environment, their feathers and down undergo a proprietary washing process using recycled water and bio-degradable detergent. Feathers and down are sourced from leading providers in Europe and China, an important and discernable distinction over the life of a garment or product.

In addition to the bluesign certification, Allied Feather & Down is certified as asthma and allergy-free and has a sensitivity rating higher than "hypo-allergenic". A leader in the industry, Allied Feather & Down plays an active role in setting global industry standards for down as a founding member of the International Alliance for the Pro Down Initiative and a certified member of the International Down and Feather Bureau.

"We clean, grade and process more than 5 million pounds of feathers and down per year," said Steve Uretsky, president and CEO, Allied Feather & Down. "Our customers are global brands who are committed to the environment and to every element of the supply chain. We are aligned in our commitment to the environment," he added. "Approval by bluesign technologies ag has tremendous value to our company. It's a validation of our continuous commitment to the environment and it creates awareness among the types of companies that we want to do business with."

The bluesign bluefinder is an advanced search engine for textile manufacturers containing bluesign approved raw materials and chemical components that meet the bluesign standard. The advanced search engine is always up-to-date and provides textile manufacturers with the newest easy-to-use textile-relevant EHS information. The bluesign bluefinder is the tool to help manufacturers manage their input streams regarding sustainability.