Kofi Annan addresses first ITMA-ITMF World Textile Summit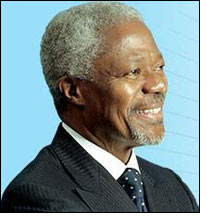 The first ITMA-ITMF World Textile Summit took place at the Hotel Rey Juan Carlos I, in Barcelona, Spain, bringing together textile-industry leaders and some of the world's most influential thinkers and policymakers in strategically important fields such as economics, trade, technology and sustainability.

Its two keynote speakers were Kofi Annan, former United Nations Secretary General, and Barry Eichengreen, George C. Pardee and Helen N. Pardee Professor of Economics and Political Science at the University of California, Berkeley.

Other eminent participants included Rufus H. Yerxa, Deputy Director-General of the World Trade Organization (WTO), and Du Yuzhou, Chairman of the China National Textile and Apparel Council, while among the audience of nearly 300 was Vietnam's Vice-Minister of Trade and Industry, Ho Thi Kim Thoa.

Delegates received a welcome from Catalonia's Minister for Enterprise and Employment, Francesc Xavier Mena, accompanied by the President of CEMATEX, Stephen Combes, and the President of the ITMF, Bashir H. Ali Mohammad.

The World Textile Summit is the first joint initiative between CEMATEX, owners of the ITMA show, and the ITMF. The inaugural conference was organised in partnership with the World Textile Information Network (WTiN) and international event organiser MP International.

The one-day Summit set out to deliver an inspirational, forward-looking agenda, including interactive panel discussions, designed to offer a global perspective on the opportunities and challenges likely to face the textile industry in years ahead. Opening the event, Kofi Annan spoke on the topic of Sustainability and the UN Global Compact for business ethics – a cause to which he has devoted much of his attention since he left his UN office in 2006.

He was followed in the morning session by three leading textile-industry figures – Loek De Vries, CEO of technical-textile producer Royal Ten Cate, speaking on structural change; Thomas Babacan, CEO of textile-machinery giant Oerlikon Textile, addressing technological change; and Philip Chamberlain, Head of Sustainability at C&A Europe, setting out the retailer's compliance standards for environmental and ethical performance.

Beginning the afternoon session, which broadened the debate into the areas of macroeconomics, trade and sourcing, Professor Barry Eichengreen offered predictions for patterns of manufacturing investment and trade in the wake of the global financial crisis.

Brian Guidry, Vice Director of Sourcing and Procurement at Spanish fashion retailer Mango, assessed the future development of the textile supply chain; Dilip Jiwrajka, CEO of Alok Industries, asked whether India might be the next textile powerhouse; Du Yuzhou set out the strategic vision for China's textile industry; and Rufus Yerxa gave a WTO perspective on the future of textile trade.

The moderator for the day was the award-winning UK-basedfinancial journalist, Nadine Dereza.