SHIMA SEIKI exhibits new products at ITMA exhibition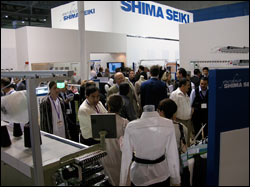 It has been 50 years since SHIMA SEIKI began developing products that benefit the knitting industry under the corporate motto "Ever Onward." We continue to provide the latest technology, and ITMA 2011—our 10th ITMA since we first began participating in 1971—is an excellent opportunity to showcase our capability.

Through our exhibit, we hope to reassure both our existing customers and potential customers about our future direction, so that they may realize the choice they make in Shima Seiki is the right choice to make for their future.

As part of its enormous growth as the world's foremost garment production base, China's knitting industry has developed rapidly. As feared and revered as China is however, we are now witnessing a slowdown due to increasing material cost, higher wages and shortage of labor. Consequently the trend to concentrate knit manufacturing within China is being reconsidered.

At the same time, textile manufacturing for consumer markets are expanding within emerging markets such as Russia, India and Brazil due to recent economic growth. Asian and Middle Eastern countries are also attracting attention as garment manufacturing bases for the European market.

In order to cater to such diverse and dynamic conditions in garment production around the globe, at ITMA 2011 we are showcasing a line of new machines that correspond to the specific needs of each country, each area and each market. With "Solutions for Diversity" as our exhibit theme, we present the future of knit production in what we believe to be its ideal form: Flexible manufacturing combined with smart production (planning, design and programming) based on the unique capabilities of our new design system.

In manufacturing, 10 out of the 12 computerized flat knitting machines exhibited at ITMA 2011 are new. They round out a complete lineup only Shima Seiki can provide: WHOLEGARMENT, new integral, intarsia and shaping machines ranging from 3G to 21G. For manufacturing in consumer markets, an expanded range of WHOLEGARMENT knitting machines offer even higher added-value than ever before.

A new generation of shaping machines provides a new sense of value aimed at an entire spectrum of markets, from high value-added production applications in consumer markets to replacements for hand-flat knitting machines in labor-intensive mass-production markets. For production, brand new software provides improved efficiency in programming, and enhanced 3D simulation capability eliminates the need for costly and time-consuming samplemaking, beneficial to any market application.

ITMA not only provides us with the chance to show new products, but it also presents an opportunity to receive feedback from customers from all over the world under one roof. Working in close consultation with our customers and continually offering new solutions, we hope to revitalize the world's knitting industry through customized market solutions, at ITMA and beyond.