NY cotton market facing downward trend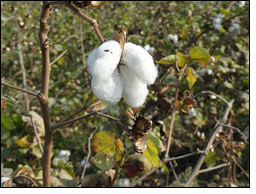 NY futures came under considerable pressure this week, as December fell by 1233 points to close at 99.29 cents.

Renewed risk aversion by the financial community was the primary driver behind cotton's disappointing performance this week. Cotton was in good company though, as commodities and stocks all across the board got hammered in reaction to fears of a deepening global recession. Crude oil fell about 10 dollars/barrel, corn dropped 85 cents/bushel, soybeans lost 100 cents/bushel and even precious metals were taken down hard this week.

The Federal Reserve echoed the fears of investors yesterday, stating that the economy is looking weak and that it may not get better anytime soon. However, instead of announcing "QE3", the Fed said that it would focus on flattening the yield curve by shifting some 400 billion dollars of its treasury portfolio from short (up to 3 years) to long-dated maturities (6 to 30 years). In doing so, the Fed would maintain its balance sheet at the current level of around 2.9 trillion dollars.

The grim economic outlook and a less accommodative stance by the Fed than many had hoped for prompted investors to sell stocks and commodities, while bonds and the US currency benefited from this renewed flight to "safety". The strengthening US dollar is weighing on commodities, since it makes them more expensive in other currencies.

We have repeatedly talked about the importance of momentum, which in the case of cotton started to fade long before the above-mentioned factors came into play. Looking at the CFTC report as of September 13, which reflects the changes during the week when December rallied to a high of 115.47 cents, we notice that large speculators were actually liquidating longs (-1'729 contracts) as well as shorts (-2'803 contracts), while it was the smaller speculators ('non-reportable positions') that did the buying (+4'106 contracts net), probably based on technical strength or because of the flood in Pakistan.

Although the trade was a net seller into this rally, there were some who favored the long side as well (+5'729 contracts), while new shorts increased by nearly twice as much (+10'967 contracts). The forth group, Index Funds, have remained mostly on the sidelines (+59 contracts).

From the above data we conclude that it wasn't the larger specs or hedge funds that sponsored last week's rally. If anything these hedge funds were already on their way out, and probably pulled the plug on a lot of their remaining longs when the market broke below the 109 cents support level on Monday morning. Open interest dropped by about 6'500 contracts in the three sessions between Monday and Wednesday and the weak technical action is likely going to invite further liquidation.

From a fundamental point of view things do not look quite as negative as this latest selloff may suggest. Business for nearby shipment is still relatively active as mills continue to replenish depleted stocks and prices in China have actually shown some strength lately, mainly thanks to support by the Chinese Reserve.