Wrinkle-free finishing technology for cotton fabrics unveiled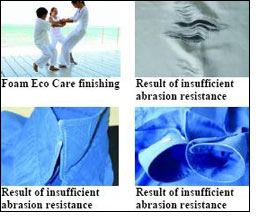 Clariant's launch of Foam Eco Care finishing for cotton fabrics takes place at ITMA, Barcelona, and provides manufacturers with a high performance, sustainable, and innovative technology for wrinkle-free finishing. The new foam application formula results in increased productivity, improved energy usage as well as improved abrasion resistance and fabric strength, and reduced chemical usage without compromising durable press ratings.

Global textile solution provider Clariant has been working for the past two years with Cotton Incorporated of America to achieve this breakthrough in advanced resin-based foam finish application that is more resource efficient than current techniques and especially suited to the production of shirt and trouser fabrics, as it also allows for non-iron properties.

Clariant had already achieved good success with its recently developed Premium Eco Care finish for an environmentally friendlier wrinkle-free finish, using its Arkofix ELF product, and crosslinking it with low curing temperatures. Notwithstanding this, under an open innovation program the Business Unit Textile Chemicals believed that further innovation was possible by applying the chemicals by foam. Cotton Incorporated also believed that it was the way forward to more sustainable finishing.

"You could say that Clariant's Foam Eco Care proves the old adage that two heads are better than one," says Ken Greeson, Senior Textile Chemist at Cotton Incorporated headquartered in Cary, North Carolina. "This new process has major advantages over conventional pad application and we are sure it will be welcomed right across the industry. We used the same cotton poplin and denim fabrics throughout the trials and used Gaston CFS (chemical foam system) application technology."

Foam Eco Care, developed under laboratory conditions, has been extensively tested in commercial mills in Italy and the results have been identical. "What we had achieved under ideal lab conditions had to be reproducible within the commercial environment of ordinary textile mills," says Georg Lang, Head of PG Finishing at Clariant. "Foam application machinery is now generally used within modern textile mills and adapting to Foam Eco Care should not be difficult nor require any serious investment.

Where mills need to introduce foam application equipment, which can be used for purposes other than just durable press finishing, the payback time would be very short." The economics of the new system are sound.

The cotton poplin used for the trials was a 130 g/m2 fabric and the foam was applied with the Gaston CFS lab unit. Because the foam has less wet uptake, the fabric dried faster using foam and the dwell time was 25% less than using pad application. While tensile and tear strength were equal to pad application, as was the smoothness achieved, the foam application had much superior flex abrasion when compared with pad application. The denim fabric used for testing was 345 g/m2, desized and scoured.