Australian Merino wool inspires China's luxury market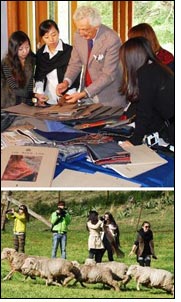 Production has begun on Australian Wool Innovation's (AWI) 2011 China Luxury Market Campaign, targeted at reinforcing Merino wool's luxury credentials, whilst aiming to grow market share in the rapidly expanding Chinese women's wear segment.

The campaign will utilise multiple media channels to drive the message of Australian Merino wool to Chinese women through television, radio, print, online, social media, in store promotion and outdoor billboards. At the heart of the campaign will be a six part television documentary filmed by Chinese Business Network (CBN), China's sole luxury oriented media giant who partnered with AWI in last year's campaign to produce the Gold Woolmark series.

In China, AWI has partnered with six of the country's leading premium women's wear brands: Icicle, JNBY, Zukka, Exception, White Collar, and Eachway. All of these participating brands have committed to increasing their Australian Merino wool product offering by 5% in Autumn/Winter 2011/2012 and by 30% for Autumn/Winter 2012/13.

Designers from these brands will travel to NSW, Tasmania and Western Australia seeking inspiration for an exclusive Merino wool collection they will create for their brand. The documentary series will film the designers learning not only about Merino wool but the people and land which produce this inspiring fibre.

"The luxury market in China, like the rest of the world, is driven by more than glamour and 'hype'. Luxury consumers are interested in values of heritage, quality, provenance and craftsmanship. They want to know what the substance behind the brand and its product," explained Sam Guthrie, Global Business Development Manager at AWI.

"Heritage and modern stories of the Australian wool industry offers brands this substance in spades. This campaign is about putting at the front of the stage woolgrowers and the inspiring work they do on the farm to produce the world's most prestigious fibre."

Whilst in Australia the designers will take part in farm duties such as shearing sheep, mustering and learning to work as jillaroos. The documentary will pay particular notice to women working on the farm from apprentices, to station managers. "Our campaign is about selling wool to sophisticated, well educated and successful women in China. To inspire these consumers we want to tell the stories of inspiring women working on the land: from Eliza Furlong, who is considered a founder of the Australian wool industry, to the large number of women today who are considered leaders of the industry."

AWI will also create a design studio on a Merino wool farm to be known as "The Wool Lab" where designers will undergo training in the infinite versatility of Merino wool. The Wool Lab will contain over 500 carefully selected yarns and fabrics from 60 elite manufacturing partners in the UK, Japan, Italy and China from which the designers can select materials and begin creating their own branded collections. Each Wool Lab collection produced by the designers will be modeled in the documentary series by well known Chinese women notable for their success across a range of industries including business, journalism, media and fashion.