'Innovation has kept us ahead of the curve' - Shaleen, Banswara Syntex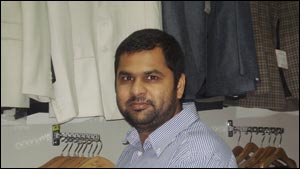 The moment you enter Shaleen Toshniwal's corner cabin, you are struck by the floor to ceiling polished wood paneling adorning the walls and you cannot but miss the photos pasted or hung behind his chair and on the table.

They include a snap of his taking part in the Mumbai Marathon, a photo of the Cricket Club of India (CCI) team of which he will be the captain this season, another of the Toshniwal family and many more. On his desk he has lined up photos of his two daughters.

Meet Shaleen Toshniwal, the 34-year old, executive director of Banswara Syntex –– which notched up revenues of Rs 8.08 billion in 2010-11, up just a shade below 32 percent and profit after tax grew at a blistering pace of around 52 percent in the same period. He is the second son of Mr RL Toshniwal – CMD of the company.

Shaleen manages the garment division of Banswara Syntex, which too has clocked consistent growth rates of 25-30 percent each year since its inception in 2004, and will be an Rs 1.2 billion business by the current fiscal year-end, with plans to more than double it by 2015.

This should not sound impossible considering the scorching growth rates chalked out by the division as well as Banswara Syntex, in the last few years.

Shaleen has been brought up in Mumbai and has studied at GD Somani School in South Mumbai. He did his junior college from HR College and completed his Bachelors in Management from Bentley College in greater Boston area in the US.

Soft-spoken Shaleen is married to Sonal, who has a earned a degree in dentistry and they have two daughters, Esha who is five years old and Diya - eighteen months.

Shaleen is a true cricket fanatic. Right from school till junior college and even now on weekends, he does not miss a good game of cricket. He regularly plays cricket on weekends at CCI, of which he will be captain of the members' team. Along side he is also conscious of being fit and complements it by religiously doing yoga as well jogs 6-7 kms a day, 3-4 times a week.

When quizzed about family values, he informs, "My family gave us siblings, a lot of space and independence, which however was not misused by any of us. When young, it meant an open and free atmosphere at home. In return, we were only expected to do well in school. Family values also mean respecting elders, following religious traditions and standing up for family and friends as and when needed".

He respects his father for his raw passion and involvement in the business. He also credits his father for teaching him to draw the maximum value from each rupee spent on the business, or what we would call cost optimization in management terms.

His elder brother Ravi has inspired him to innovate and develop, which he considers the main reason for Banswara Syntex to be ahead of the curve. He gives due credit to his brother for the fabric innovations that have taken place at Banswara Syntex. The potent mix of cost optimization, along with innovation and development has left a lasting impression on Shaleen.