ICAHT – 11 OGTC themed making competition irrelevant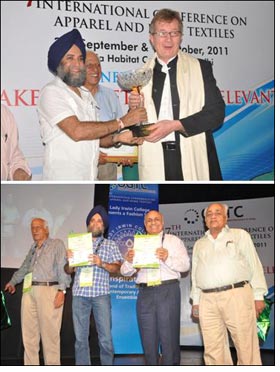 The 7th edition of annual Okhla Garment and Textile Cluster OGTC Conference concluded on 1st October 2011 with an impressive participation from International and National Industry Experts and good participation from Industry and Academia.

The conference covered all aspects of the apparel industry, including the problems of small-scale enterprises in the developing world, the barriers which are hindering the growth of this industry, the strength and weakness of the manufacturers in different regions, globalization issues, resource and manpower scarcity, quality of the product, adopting new techniques to improve productivity, managing global supply chain and finally changing apparel industry trends with ever-changing fashions.

The conference provided an environment for academics, researchers and practitioners to exchange ideas and recent developments in the field of apparel manufacturing. The conference as expected fostered networking, collaboration and joint effort among the conference participants to advance the theory and practice as well as identified major trends in apparel manufacturing.

The Convention provided a great opportunity for international trade fraternity to know the dual strengths that India can offer, not only as a great supplier base, but also as a fashion destination for international brand.

In terms of statistics over 300 delegates from industry, Academic Institutes, research associations and professionals consultants attended 12 oral presentations on day 1 and 8 workshops covering Manufacturing, Marketing, HR, CSR, and Environment on Day 2. All sessions including the workshops were chaired by eminent industrialists of the apparel industry namely Mr.Hari Kapoor,Mr. Praveen Nayyar ,Mr.HKL Magu, Mr. Vinod Kapoor, each one sharing his outlook on current situation and own vision for the future.

In an impressive ceremony OGTC Path Breaker Award for 2011 was conferred on Mr. Manfred Haebig Director giz who lead diverse projects in the field of corporate social responsibility, responsible competitiveness of enterprises through access to financial and non-financial services for micro, small and medium enterprises (MSME).

At the ceremony OGTC president Mr. Uppal Said "The only way to make competition irrelevant is to build a strong brand India, where buyers cannot ignore our strengths and service levels." OGTC Director General Mr. R C Kesar emphasised that today's buyer is looking something beyond quality, service and cost and that may be responsible competitiveness.

He also highlighted OGTC initiatives and importance of Cluster approach to development. Mr. Manfred in his acceptance speech said the award basically would be a recognition of entire GIZ India team He complimented OGTC for being a cohesive and forward looking group.he also expressed his happiness for associating with OGTC as knowledge partner.

The galaxy of international speakers included Mr. Paul Collyer,Mr. Roger Thomas.Mr. Keerthi Abe,Mr. Yoram Burg,Ms. Sandra McNabb. Ms Rosey Hurst and Mr. James Hoerig . All of them are well known names in the industry who have hands on experience working with the Indian Apparel Industry.