SABIC's Q3 profit amounts to SR 8.2 billion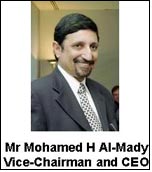 Saudi Basic Industries Corporation (SABIC) announced its financial results for the third quarter of 2011. SABIC achieved SR 8.2 billion in net profit for the 3Q2011. These are another record result in the history of the company, for this quarter ended on 30 September, 2011.

During the press conference, Mohamed Al-Mady, SABIC Vice Chairman and CEO, emphasized that SABIC has achieved positive results in the third quarter and maintained its pace of growth based on the reliability of its performance and sound operations. This has been achieved thanks to the efforts of SABIC employees and recent programs that have transformed SABIC into an integrated global company.

Al-Mady also attributed the positive results to increased production and sales, as well as to the reduced cost of funding. He also gave credit to the diversity of SABIC's markets, and its strong presence in global production hubs, especially in the markets of developing economies such as China, India and Saudi Arabia. In these markets, it has maintained its competitive position and continued to succeed and grow.

Al-Mady highlighted that the diversity of SABIC products reduce market risks considerably. SABIC produces steel, fertilizers, innovative and advanced engineering thermoplastics, polymers, and added value performance chemicals. SABIC also benefits from a stable economic situation in the Kingdom. Thanks to these and other factors, growth plans and projects are moving forward according to the company's strategy.

Al-Mady added that SABIC continues to grow and invest. It has new projects in place for the period of 2012 –2015. With regards to prospects for growth, Al-Mady pointed out that SABIC continues to expand its performance chemicals production line to manufacture a range of specialty chemicals that will drive the growth of downstream markets in Saudi Arabia and abroad. Strategic agreements have also recently been reached with several partners. This includes SABIC's agreement with Sinopec for the production of 260K tons of polycarbonate, as well as agreements with Mitsubishi Rayon, Montefibre, Exxon Mobil, Lurgi and Asahi to produce chemicals such as methacrylates, polymethyl methacrylates, carbon fiber, elastomers and sodium cyanide.

Al-Mady said: "SABIC's business is based on the reliability of high capacity operations that maintain operational safety. The company has a strong commitment to being reliable in all its operations. The challenges of the marketplace, the existing global economic volatility and operational challenges are things that SABIC takes into account and deals with accordingly".

Al-Mady assured that the positive results for the third quarter of 2011 are a natural result of the continued growth experienced over the last two quarters of the same year. The company has continued to step up its production capacities in its different businesses. The SAUDI KAYAN petrochemical complex in Jubail Industrial City started its commercial operations in early October. Its financial results will be included within the company's consolidated results in the last quarter of 2011.