S-OIL begins operation of world's largest single train PX plant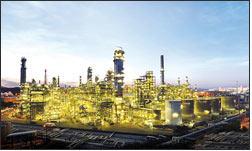 S-OIL inaugurated and began commercial operations of the expanded Onsan Refinery on October 20 in Ulju County, Ulsan. The inauguration was done by the Representative Director - Ahmed A Subaey in the presence of President Lee Myung Bak and other VIPs.

The Inauguration celebrating successful completion of petrochemical production plant was attended by close to 1,000 Koreans and foreigners among whom included Saudi Minister of Petroleum and Mineral Resources, Al Naimi, Ulsan City Mayor, Park Maeng Woo, President of Saudi Aramco, Al Fallih and Chairman of Hanjin Group, Cho Yang Ho, both companies of which are majority shareholders of S-OIL, lawmakers representing Ulsan and representatives of contractors.

S-OIL invested 1.3 trillion Won in 'Onsan Refinery Expansion Project' with the vision to secure engine for future growth. S-OIL's annual production capacity of PX (raw material for poly ester) and benzene is 1,700,000 tons and 560,000 tons each, which is almost double the refiner's original production capacity, positioning S-OIL into the one of the most competitive supplier of petrochemical products to the world.

Commercial operation of the world's largest single train PX plant and its Inauguration set a new landmark in both taking Korean petrochemical industry's global status and competitiveness to a higher level and in further vitalizing bilateral economic cooperation and exchanges in the private sector based on the principles of promoting mutual benefits between Saudi Aramco and Hanjin Group as majority shareholders of S-OIL.

In his congratulatory speech, President Lee Myung Bak expected further growth of the Korean oil refining industry from an "industry that refines imported crude oil" into an "industry that produces and exports high value added petroleum products."

President Lee said that Minister of Petroleum and Mineral Resources of Saudi Arabia Ali Al-Naimi, who had been the CEO of Saudi Aramco, had decided to make a large-scale investment in Korea 20 years ago for the first time among Saudi Arabian companies. He added, "Saudi Aramco, which has made S-OIL what it is now, is a global company that can do everything in relation to oil, ranging from oil development to the refining, transportation and sale of oil." He also said that Korea and Saudi Arabia could combine mutual strengths and develop global markets since Saudi Aramco selected S-OIL, a Korean company, as its partner.

Saying that S-OIL is a successful model of economic cooperation between an oil producer and an oil consumer and symbolizes economic cooperation between Korea and Saudi Arabia, President Lee hoped that the two nations, which had mutually complementary industrial structures, would create a more advanced cooperation model in the future.

In addition, President Lee explained the strengths of Korea that has secured global competitiveness in the areas of smart grid, energy storage system, and fuel cell by adopting "green growth" as a paradigm for national growth. And then he assured that Korea and Saudi Arabia, which has great interest in green growth despite the world's largest reserves of natural resources, would be reliable partners for each other.