'Our topline will be the bottomline by 2015' – Akash, Narayan group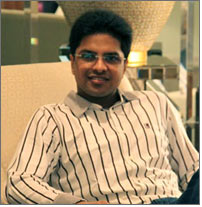 He oozes confidence levels, not common in someone of his age. There is something about the attitude of this 26 year-old youngster which indicates that he will achieve whatever he aims for. For example, the company visualizes being amongst the worlds leading manufacturers of women's synthetic dyed fabrics by 2020.

The youngster is none other than Akash Khetan – the dynamic executive director of the Surat-based Narayan Group. And, it is no wonder then that his company, a leading name in dyed synthetic women's fabrics, was chosen in the 'Leaders of Tomorrow' program on 'ET Now' business news channel.

Akash did his schooling from Ramratna Vidya Mandir, near Essel World in Mumbai, graduation in Management from Cardiff University – UK and post-graduation in 'Family Managed Businesses' from SP Jain Institute – Mumbai.

He gives full credit to the Family Managed Businesses course at SP Jain. He says, "It is a very good course for those students who have their own family managed businesses and is at par with the course taught at Harvard. It is generally said that whatever is written in books cannot be applied. This course removes the myth.

He explains, "In this unique course, a student goes back to his business and applies it in real life situations whatever he/she is taught during a given week. I applied a lot of strategies, tools and reporting methods learnt while doing the course and also still implement concurrently. I would recommend someone to initially work in his business for a period of 12-18 months, and then do the course".

He stood first in the 12th standard in his school, repeated the feat both at Cardiff and at SP Jain in the respective courses. One more uncommon trait is his passion for dancing. He has a theatre room at home, in which he switches on the music and dances till he is exhausted, as and when time permits.

The most important moral values that the family taught him were to be ethical and transparent. He underlines the importance of being ethical by saying, "You can cheat only once. There cannot be a second time with the same person atleast. More important – You cannot deceive your stakeholders, otherwise, our company will not grow to the heights that we intend to take it to".

The Khetan family has its roots in Bhagalpur – Bihar, where his grandfather and father dealt in silk fabrics. His father – Mr Anand Khetan moved to Surat in 1994 – beginning as a trader of synthetic women's fabrics and later on graduated to manufacturing of fabrics and thereby laid the foundations of the now ISO 9001-2008 certified Narayan Group, which has posted scorching growth rates of between 35-40 percent every year.

In 2003, the Khetan's set up a fabric process house, in order that they stick to lead times and more importantly there would not be a single case of stock outs. They now have a capacity to process 42 million meters of fabric per annum.

Currently the fabric product range of Narayan, which is mainly polyester fibre based include, georgette, crepe, chiffon, satin, jacquard and many other value added fabrics. They have a pan-India market for their fabrics as well as do third-party exports.