TRSA touts government outreach in latest Webinar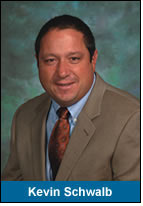 Textile Rental Services Association of America - TRSA's advocacy efforts on Capitol Hill took center stage in a Nov. 3 webinar titled "Even Stronger Together: Industry Advocacy 2012" hosted by the association's Government Relations Director Kevin Schwalb. Schwalb was joined for the one-hour Internet broadcast by Kai Hirabayashi, labor counsel for the Senate Committee on Health, Education, Labor and Pensions (HELP).

Schwalb kicked off the presentation to TRSA and CSC Network members with an overview of the current makeup of Washington, including a breakdown of both houses of Congress by party and a preview of the 2012 presidential and congressional races. He also highlighted the regulatory agencies that impact the textile services industry, including the Environmental Protection Agency (EPA), the Occupational Safety and Health Administration (OSHA) and the National Labor Relations Board (NLRB), and how these agencies have been operating under the Obama administration.

"The theme of the administration has gone from a compliance first, help business owners deal with the regulatory burdens of the (George W.) Bush administration to we're going to enforce first and then ask questions later to help you," Schwalb said. "We're going to enforce, we're going to penalize you and then we'll work to help you get into compliance. The focus has turned from compliance to enforcement, which is why OSHA and the EPA have grown these last couple of years."

A few of the issues on the association's radar coming from these agencies include:
• Volatile Organic Compounds (VOC) testing requests in Region I (New England)
• Ergonomics – OSHA's MSD column on the 300 Logs
• The Poster Rule and the Quick Elections Rule from the NLRB encouraging unionization

After discussing these key regulatory issues, Schwalb turned his attention toward legislative matters that will affect textile services companies and the efforts TRSA is making in Washington to ensure the industry's viewpoint is considered. Schwalb specifically highlighted the Workforce Democracy and Fairness Act, Protecting Jobs from Government Interference Act, Fair Representations in Elections Act and the EPA Regulatory Relief Act.

After Schwalb gave an overview of these measures, he was joined by Hirabayashi, who provided an insider's viewpoint from the Senate on the current state of Washington. He focused on the key issues under consideration by the HELP Committee and the outlook on upcoming matters of importance. Hirabayashi also encouraged those in attendance to utilize TRSA's reach on Capitol Hill to put their issues in front of legislators.

"One thing I will mention is the importance of TRSA and Kevin, and all that he does," Hirabayashi said. "Certainly if you see issues or have issues that come up, definitely use Kevin as a resource because when we're looking for issues and we want to hear what's going on out there in the world, we often reach out to folks like Kevin, who has a direct connection with his members.