Print's real explorers to be recognised at FESPA Digital's Hall of Fame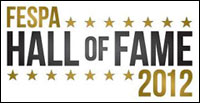 FESPA is inviting nominations to a FESPA Hall of Fame, which it intends to become a 'who's who' of the leading lights in the print community.

The Hall of Fame will be inaugurated at FESPA Digital 2012 in Barcelona (21-24 February 2012), in the form of a gallery of stars highlighting the names of printers from all over the world who their peers hold up as inspirational role models in the print community. Nominees might have pioneered a new approach or technology, or demonstrated innovation in other ways. They may simply stand out on print skill or service, for a leading stance on sustainability, or have made some other significant contribution to the industry.

Whatever makes the printer in question stand out, the nomination process is simple. Printers, agencies, brands or suppliers wanting to nominate a peer or a colleague (or even themselves!). The entry information will be collated by FESPA and the nominees published online, with the opportunity for members of the community to vote for their favourite candidates. FESPA will publish a list of all nominees at the end of December 2011, with the nominations closing in January 2012.

Based on the online votes, FESPA will narrow down a shortlist of up to ten printers per country to be featured in the actual Hall of Fame at the Digital 2012 event. These shortlisted printers will each receive VIP status to attend FESPA Digital 2012, and will also benefit from privileged invitations to future FESPA VIP events such as Global Summits.

Voting will continue onsite in Barcelona for the outright leader of the Hall of Fame 2012. The winner of this prestigious accolade will be announced at a champagne VIP reception for the Hall of Fame printers on the last day of FESPA Digital 2012.

FESPA Managing Director Neil Felton explains the reason for launching the Hall of Fame: "In this industry, awards are often given for particular jobs or campaigns, to printing companies, and to new technological innovations, but it's rare for the individual print professionals who drive this community to be recognised for their unique and personal contribution.

"As a relative newcomer to the world of print, I'm struck by the charismatic personalities that inhabit this sector, and the spirit of entrepreneurialism and determination which sees print service providers taking their businesses forward, sometimes against the odds. The FESPA Hall of Fame will celebrate these individuals, showcase their achievements and inspire others to follow their example."

Founded in 1962, FESPA is a not-for-profit federation of trade associations and an organiser of exhibitions and conferences for the screen and digital printing industries. FESPA's dual aim is to promote screen printing and digital imaging and to share knowledge about screen and digital printing with its members across the world, helping them to grow their businesses and learn about the latest developments in their fast growing industries.